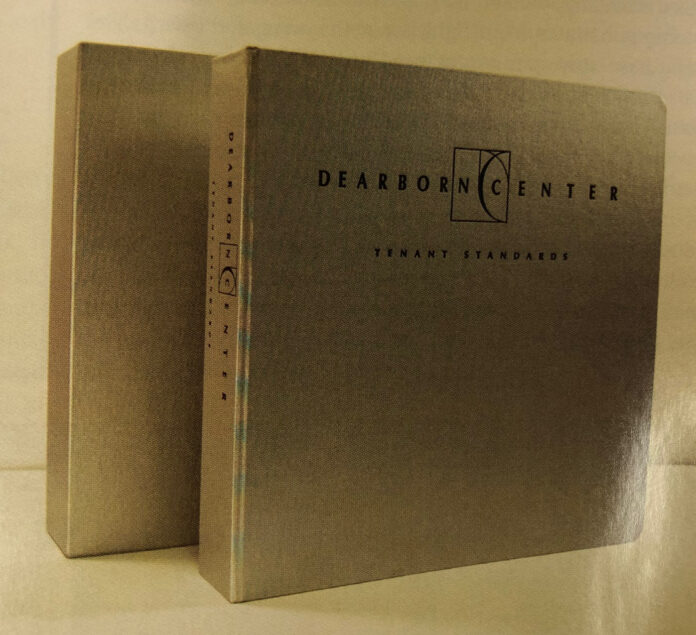 by Jen Clark
The ability to store and easily modify or amend information over time is what makes loose leaf binding an attractive option for many bindery clients. And, while some loose leaf notebooks may include special features, the basic design of a loose leaf binder has remained the same since the first patents for the device were filed in 1854. However, the options for the construction materials have changed.
Cover Material Varies Depending on Budget, Purpose
Most loose leaf binder covers are made of three pieces, similar to a hardcover book, but are produced in many styles. Vinyl binders are popular because they are durable and economical. They are manufactured using vinyl sealed over chipboard.
"There are different kinds of vinyl," said Joe Lauricella, vice president of Gane Brothers and Lane, Elk Grove Village, IL. "Film vinyl comes in many different gauges, grades and aesthetics. While vinyl is popular, we are seeing inquiries coming in for phthalate- and lead-free vinyl – more ecologically friendly items, especially for our California customers," he said. "Vinyl is common within the loose leaf trade, but competes with the popularity of other options available for turned edge applications."
Turned edge binders are manufactured using a variety of materials, including book cloths, imitation leather and high-strength paper wrapped around board. "Popular items are B cloths =- depending on how they are filled or impregnated gives it strength," Lauricella said. "C grades are a heavier cotton cloth, also filled and impregnated. It can go up to F grade buckrams – a polyester-cotton blend. We also use imitation leather – Sturdite, a heavy cotton sheeting embossed to appear like leather. It is used quite readily in the trade for turned edge projects. Genuine leathers are used too. Bonded leathers are reconstituted leathers held together with a binding agent. They can be colored and embossed."
An option from Gane Brothers and Lane's premium line is the warm, soft texture of natural cork for a decorative covering material. "Anything that you can turn edge or laminate, you can use for cover material," Lauricella said. "People have made binders from wood – from the board itself – and even metal."
Budgets always play a role in what customers choose, he added, but the products are specified by the end-user. "We stock, and have the ability to provide all kinds of turned edge and heat seal products," he said. "We are unique in that we sell and promote all of these products and can make recommendations when customers are looking for a specific presentation to match an economy of price and performance. We provide a different kind of service. Our question to the customer is 'what are you making, what are your desired performance characteristics, what kind of visual do you want, and what is your budget?'"
Gane Brothers and Lane also offers complete converting capabilities. "We can cut to size, sheet material by width, slit roll goods, cut board, drill, round corner and shrink wrap," he said. And while the company doesn't offer decorating services, such as foil stamping, screen printing, embossing and debossing, the sales staff is knowledgeable about the various decorative methods. "There are some really cool, neat-looking things that can be done to decorate a particular material surface," Lauricella said.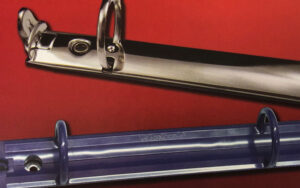 Plastics Gaining Ground, but Metal Remains Popular Choice for Rings
The spring-loaded metal clamps, otherwise known as ring metals, utilized to hold and organize documents are made of highly polished nickel-plated steel. The rings often are circular or D-shaped, while others utilize rods to contain the paper. Some manufacturers now are offering plastic three ring binder mechanisms in a variety of colors.
Spiral James Burn, Totowa, NJ, offers plastic rings made from ABS Resin. "When molded, it forms into a very durable product with a smooth finish," said Michael Bossard, integrated marketing manager. "This material also assures you that the rings won't rust and makes them archival safe."
While plastic rings allow for more color choices, which help projects stand-out, they are limited in how much paper they can hold. "Ultimately metal can support more weight, so for particularly large projects metal will hold up better," Bossard said. "If the application requires a larger ring size, then plastic would not be the best option."
Plastics rings also cost more. "Metal is mass-produced and essentially a commodity at this point in the product life-cycle," Bossard said. Metal rings come in a variety of shapes to accommodate large-capacity storage. Round rings offer the easiest page-turn and accessibility, while D-rings accommodate more pages. Trapezoid-, elliptical- and arch-shaped rings are also available from some suppliers.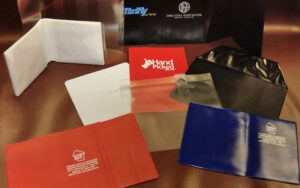 Index Tabs, Pouches Help with Organization, Archiving
Among the special features employed with loose leaf binders are index tabs, pockets and sheet protectors. Pieces of card stock with a tab at the edge allow the binder's contents to be broken into sections. Pockets that are attached inside the front and back cover of a binder are used to carry items such as CDs or business cards. Sheet protectors can hold printed pages and are attached to the rings, providing archival qualities.
The Holmberg Company, a Minneapolis, MN-based supplier of converted paper products, offers standard and custom-printed index tabs in a variety of styles, including Mylar lamination in clear, write-on and in 23 different colors. Fileback tabs, in high demand by the medical, financial and legal industries, also are available.
"Most index tabs are produced in much the same way, but that does not mean it is an easy product to produce," said Jasmine Kuipers, Holmberg product manager. "The difference comes in the quality of the finished product and the service provided to the customer. We have been making index tabs for over 50 years and our customers know that our tabs will always be collated correctly, with no missing tabs; have clean, dust-free edges; and will be packaged carefully to prevent damage or production issues."
Indent paper is pre-reinforced paper designed specifically for the index tab manufacturer, and digital or offset printer. Holmberg developed Indent paper to create high-quality reinforced index tabs. "It features a strip of polyester film to protect the sheet from tearing loose when put into a ring binder," Kuipers said. "Indent reinforced paper also is different from other reinforced papers because the polyester film has been 'indented' into the paper so there is no build up – or stack bias – and it lies flat for feeding into your press or copier."
In addition to a wide range of stocked products, it also manufactures non-standard sizes and reinforcing formats to meet the sheet and printing needs of its customers. The fileback tabs and folders, commonly used in doctor's offices, have an attached metal prong which allow other documents to be attached to the tab. "The goal of the fileback is to allow easy access to multiple documents without taking up much room," Kuipers said. "Filebacks are primarily used for record-keeping purposes, not presentations."
There are two materials used most often for sheet protectors – polypropylene and vinyl. Both offer different benefits depending on the presentation. Polypropylene sheet protectors are considered an archival material because they are an acid-free means of permanent storage. Inks and other materials won't stick to the sheet protector. It also is thinner and more durable, constructed of a lighter gauge than vinyl while maintaining the same durability and toughness. Vinyl sheet protectors offer a traditional look and heavy feel, but aren't as durable as polypropylene. Restaurants often use vinyl sheet protectors to hold menus because its heavy feel gives a sense of weight to the presentation.
Vinyl Art, Inc., is a Minneapolis, MN-based manufacturer of flexible packaging and loose leaf products made from vinyl and polypropylene. Adding pockets or pouches to binders can enhance presentations, said Tim Hitchings, the company's vice president. "It allows the customer information to be displayed for use. It also saves binder manufacturers money when they forget a pocket. With proper use, the pockets or pouches can be very durable," he added.
In addition to in-house manufacturing, VinylArt also offers specialty finishing services such as de-bossing, foil stamping and silk screening on items in vinyl, he said. "We offer custom manufacturing in sizes up to 19½x35½" and can make items in any available vinyl material in clear, colors, tinted clears, frosty and adhesive-backed." The adhesive pockets are manufactured with general purpose adhesive, glass clear fronts and easy recessed openings, Hitchings said. The adhesive can be permanent or repositionable.
While the general construction methods for loose leaf binders have not changed, the materials used both inside and outside of the information delivery system will continue to evolve to meet user needs.