Binding Summit Draws Attendees From Across the US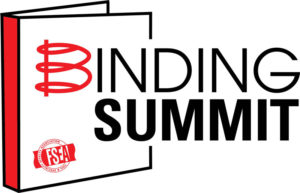 FSEA engaged its membership in the first-ever Binding Summit on April 30, the day before the opening of Odyssey Expo 2019. The event, held in Atlanta, Georgia at the Cobb Galleria Centre, was a great opportunity for Binding & Loose Leaf Division members of FSEA to interact and exchange new ideas. "The Binding Summit was a great experience," stated Nick Graham, R & R Bindery Service, Inc. "I feel any time you can get owners, manufacturers, salespeople, operators in one room to talk about the industry and share ideas, it is a positive thing."

The Binding Summit kicked-off with a keynote presentation from Deborah Corn, Print Media Centr. Corn shared with the audience ideas on how to create meaningful and profitable relationships with print partners, including ideas that trade binderies should consider and some key To Dos. Additional panels and discussions included Training and Retaining Employees, Sales Tactics and Smart Expansion and The Future of Bindery. Technical Showcase presentations allowed supply partners such as Duplo USA, Standard Finishing Systems and Absolute Printing Equipment/Perfecta USA to discuss the newest advances in bindery equipment.
Foil Recycling/Repulpability Study Remains Relevant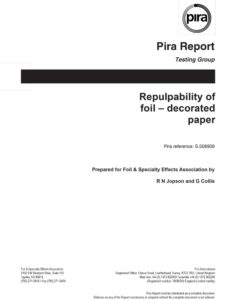 With the use of metallic decorating on the rise in several market segments, sustainability questions continue to be a hot topic for brand owners and end users alike. There has been a recent uptick in requests for FSEA's study on the "Repulpability of Foil Decorated Paper" from FSEA members and others seeking information from the detailed report.
The study, which was conducted by third-party research firm Pira International, describes the pulping and screening methods used in the research and provides a complete analysis of the reporting results from the testing methods. The study validates the recyclability of paper products decorated by both hot stamping foil and cold foil transfer. In addition, the study finds that neither hot nor cold foil-decorated products would give rise to problems found with other decorating processes that may render the decorated paper products unsuitable for recycling. "It is quite apparent that this study is extremely important to the long-term health of our industry," stated FSEA Executive Director Jeff Peterson. "We are making every effort to continue to communicate the availability of the full study to our FSEA members and the entire graphic arts and packaging industries."
To receive more information on the FSEA study "Repulpability of Foil Decorated Paper," email jeff@fsea.com.
Next Odyssey Expo Set For Cleveland in 2021

The Foil & Specialty Effects Association (FSEA) and International Association of Diecutting and Diemaking (IADD) have announced that Odyssey Expo 2021 will take place in Cleveland, Ohio in May 2021. "Moving Odyssey Expo to different US regions is important to the success of the Odyssey Expo," said FSEA Executive Director Jeff Peterson. "Cleveland should provide a central location that will drive attendee traffic from both the Midwest and Northeast sections of the US, while allowing attendees and suppliers to enjoy a new and improved downtown Cleveland area."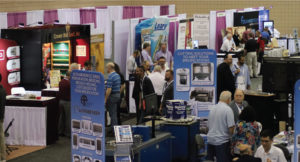 Odyssey Expo is the industry's only three-day event targeted specifically to the diemaking/diecutting, foil stamping/specialty effects, folding carton, corrugated and specialty markets. On-press classroom demonstrations, live equipment running on the event floor and experts from all sectors of the graphics finishing industry are just a few of the reasons Odyssey is a must-attend event. From interactive educational sessions taught by industry experts (both on-press in the Techshop and in the classroom) to a Technology Hall brimming with industry-related products and services from supplier companies, Odyssey Expo is the smartest way to obtain and retain a powerful market position. Watch for more information at www.odysseyexpo.org.