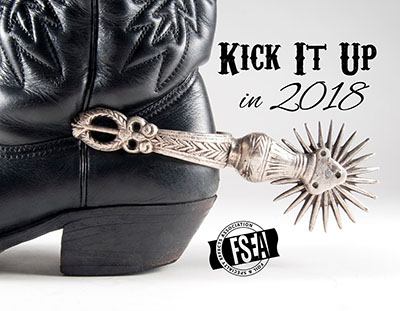 By Jeff Peterson, editor-in-chief, PostPress
Editor's Note: This article was published in the November/December 2017 issue of PostPress magazine.
The Foil & Specialty Effects Association theme for next year is Kick It Up in 2018. Our goal is to reach out to our FSEA members and potential members to emphasize the advantages of getting more involved with FSEA – and the industry as a whole. This can be accomplished in many ways, but you must take that first step.
There is no better way to take that first step than to make plans to join us for the upcoming FSEA-IADD Joint Conference in April next year. We are very excited to be partnering again with the International Association of Diecutting and Diemaking (IADD) for this special event, taking place April 11-13 in Franklin, Tennessee, at the Franklin Cool Springs Marriott Hotel. The conference will be full of great programming, including new, intimate workshops on subjects such as addressing current customer demands, decreasing spoilage in your plant, and finding and keeping millennial employees. The workshops will engage with small groups in separate breakout rooms to foster networking and discussion on these subjects, as well as many others.
The conference will open with a welcome reception and supplier trade fair, allowing attendees to network and visit with leading suppliers of foil, dies and equipment for the finishing and diecutting/diemaking industries. The second night will include a reception for the FSEA Gold Leaf Awards, followed by a night out on the town. Buses will transport attendees to downtown Nashville – adding a little music and fun to the event! For all the details on registration, hotel, speakers and sessions, visit www.fsea-iaddconf.com.
Another easy way to get involved in 2018 is to support and enter the 25th Annual FSEA Gold Leaf Awards with the cool work you have done in the past year. Winners gain recognition for their creative work through the FSEA website, PostPress magazine, the Gold Leaf Awards Reception and through other magazines, such as Folding Carton Industry and BPX (formerly Package Design) magazines. I still believe this is the single most important thing we do at FSEA. The publicity we receive for our Gold Leaf Awards just gets better and better each year. So, be sure you keep your best work from this past year and enter. Entry forms can be downloaded at www.fsea.com. Entries will be accepted through Feb. 15, 2018.
There also are smaller things you can do to be more involved with FSEA, such as taking advantage of our Grainger discount program. We now have FSEA members saving several thousand dollars every year on their Grainger purchases. It just makes sense to sign up. Also, be sure that you are part of our FSEA HelpLinks email community. All types of technical questions are asked on the HelpLinks, and fellow members respond with helpful answers.
Again, taking that first step is the key. We sure hope you will join us to "Kick it Up in 2018." Hope to see you in Franklin in April!
Jeff Peterson is executive director of the Foil & Specialty Effects Association (FSEA) and editor-in-chief of PostPress. An industry veteran with deep roots in the foil and specialty effects industry, Peterson can be reached at [email protected].