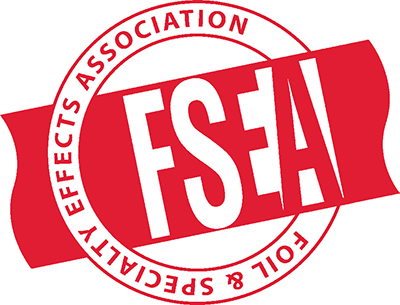 "Who you gonna call?" That depends on the problem. If Slimer is stealing your lunch, the Ghostbusters would be the obvious choice. If you're running into issues with a foil stamping or other specialty job, fellow FSEA members may just be the best bet. This was the case recently when Jon Reck of Excel Press, Inc. took to the FSEA Helplinks email list looking for advice on a flatstamping job.
"We are quoting a flatstamp foil job with design elements as wide as 2″, tapering to about .5″ over a distance of about 12″. The customer is considering a 120# endurance silk cover, .0134″ thick. Ink and aqueous coating will cover both sides of a cover-weight stock. The stamping using gold foil will only occur on one side.
We have had success with stamping large areas over aqueous on ONE side of the sheet – if we first hit the sheet with sandpaper to break the coating. I can't think of an instance where we did this with aqueous on BOTH sides, and I am a little concerned. It seems to me that, with the coating on BOTH sides of the sheet, the gasses would have a greater tendency to become entrapped and the sandpaper impression on only one side might not be as effective. I doubt that we would be able to hit both sides with sandpaper because it does leave a slight image that is hidden by the subsequent foil stamping.
Does anyone else have experience with this?"
Fellow FSEA members immediately came to Reck's assistance with several suggestions for how he might proceed. David Hutchison of BrightMARKS had the following advice.
"You are correct to have some reservations. Under any circumstances, a two-sided print with AQ will show some bruising. If it is not printed yet, for quality sake, foil stamp after one side is printed and before side two is printed. Otherwise, dependent upon the shade of foil, make a request from the foil supplier for the heaviest adhesive option for the shade. Generally, this will fall into the grades used for book cloth foil stamping. The heavier body of adhesive will assist in absorbing any trapped air. Doming your makeready also can help with gassing and air entrapment. Dome the makeready from the center out and stay off the edges of the die.
If sanding is necessary, try 600 grit first and use reduced pressure. The weight of the stock has enough bulk to accept the fine grit without showing on the back. You do not need to sand at normal stamping pressures for it to be effective. Then, increase pressure to an acceptable level and stamp – it should show no more bruising than stamping normally would.
Also, if the customer is not fixed on a mirror finish but would accept a rich gold look, suggest having the die textured or blasted with a finish. This is inexpensive and can make all the difference on a stamping project like this."
Hutchison wasn't the only on to weigh in on the project. Craig Robinson of Trojan Litho offered the following suggestions.
"You could knock out and trap the ink and coating by a 16th of an inch. If you choose to do this, you may want to run a quick test by stamping an image that spans over the edge of the ink and coating onto blank stock to make sure a pressure mark does not show up in a bright metallic foil.
Using a foil designed for uncoated stocks is a good idea due to the thicker adhesive, as long as the image does not have any fine detail."
From Greg Greenwald at Scarab Printing Arts:
"We have taped a sheet of fine sandpaper to the foil die and run some sheets. The sandpaper roughs up the surface. Then we remove the sandpaper and run the sheets back through. We have had very good results with this method. Doubles the press run, but it can save a job."
Eventually, the customer decided they were willing to eliminate the aqueous coating and run the job using UV inks. This was met with one last piece of advice from Glenn Schuster of Data Graphic.
"For what it's worth, we have had problems foiling on top of UV, especially if the inks are not 100% cured. We have sent sheets back through the UV drier and it solved the issue. Be careful not to overdo it though, because the sheet gets dried out and might crack if being folded."
There's no need to reinvent the wheel when fellow industry professionals are willing to share their experiences in overcoming common – and not so common – challenges. With FSEA Helplinks, members are able to quickly and easily connect with one another as they seek out the best methods for tackling tough jobs.