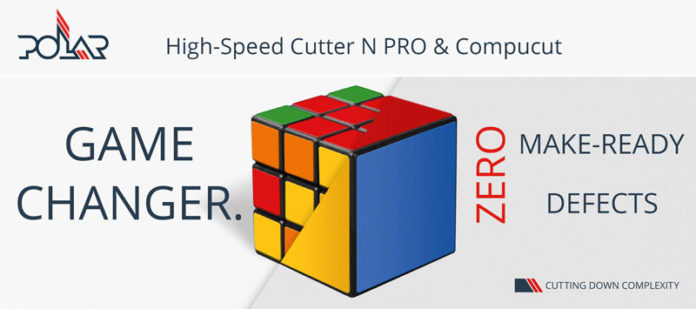 For a limited period of time, POLAR-Mohr, Hofheim, Germany, will equip every model "PRO" high-speed cutter with performance-enhancing options as part of a special offer – at no extra charge.
Throughout the PROductivity Days, all new orders for the high-speed cutter top-of-the-line model "PRO" will be equipped with a functionality upgrade as standard at no additional charge. The promotional period is limited to incoming orders from October 7th, 2019, until the end of the year (December 31st, 2019). All "PRO" high-speed cutter of sizes N 78, N 92, N 115, N 137, N 155 and N 176 are qualified for the upgrade.
The upgrade includes three options: the Compucut® Control networking software, an ergonomic special floor mat with the POLAR logo printed on it and a Guillo-Crease creasing device.
Game Changer
Compucut® Control is the Game Changer of the option package and at the same time, the most significant productivity advantage. The automation software uses CIP 3/4 prepress data to generate cutting programs at the click of a mouse automatically. Compucut® transfers the generated cutting programs to the networkable "PRO" high-speed cutter. The software eliminates the makeready time at the high-speed cutter since no manual programming is required. Also ruled out by the software are defects that could otherwise occur due to manually programmed jobs. The 21.5″ touchscreen display of the high-speed cutter shows a process visualization with a real image representation of the sheet. Process visualization helps the operators understand in which direction to turn the layers after each cut. As a result, new or inexperienced employees can also comfortably operate POLAR high-speed cutters.
Improved ergonomics
The ergonomic floor mat prevents fatigue during long periods of standing. Its cushioning not only protects the operator's spine but also increases productivity.
All-rounder
Guillo-Crease transforms every high-speed cutter into an all-rounder. It allows the quick and easy transformation of the high-speed cutter into a creasing machine. Guillo-Crease achieves excellent creasing results for a variety of materials.
The option package offers customers a cost advantage of up to 11%.
For more information and quotation requests,
visit www.polar-mohr.com/en/productivitydays.