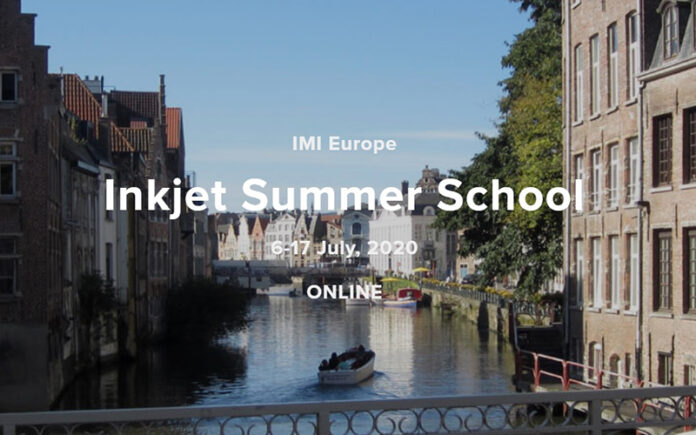 Conference and course organizer IMI Europe Ltd, Impington, UK, has announced that, due to the current situation, its Inkjet Summer School event (previously to be held in Ghent) will be held online. The courses still will be delivered live by the same course presenters, and attendees will be able to engage with the presenters and other attendees during the course.
By holding this event online, IMI Europe is able to spread the courses over two weeks, allowing participants to attend as many courses as they like. Online courses are HALF the usual price, with a free ticket included to a physical event of one's choice in the future.
Online course benefits include:
Courses will be held on Zoom via a private link
Course presenters will present live and questions can be asked at any time
Questions can be asked both publicly (verbal or chat) and privately (chat)
PDF downloads of the course materials will be provided beforehand
Networking with course providers and other registrants during breaks
Course schedule is on European Time
The courses include:
Monday, July 6-Tuesday, July 7, 2020
Inkjet Academy
Theory of Inkjet Technology
Wednesday, July 8-Thursday, July 9, 2020
Selecting & Driving Printheads
Drive Electronics & Waveforms
Thursday, July 9-Friday, July 10, 2020
Inkjet Drying & Curing
Hardware & Chemistry For Fixing Inkjet Inks
Monday, July 13-Tuesday, July 14, 2020
Fluid Dynamics & Acoustics
How Inkjet Printing Really Works
Thursday, July 16-Friday, July 17, 2020
Inkjet Colour Management
Practical Colour Management For Digital Printing Workflows
Wednesday, July 15-Thursday, July 16, 2020
Jetting Functional Fluids
Rheology, Deposition, Process & Development
For more information, visit www.imieurope.com/inkjetsummerschool2020-introduction.