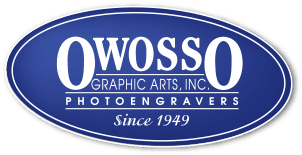 Owosso Graphic Arts, Inc., Owosso, Michigan, has announced that the company has been designated by the state of Michigan as an "Essential Supplier" to both the medical industry and healthcare field. Owosso will remain open to manufacture the products needed by its customers.
Keeping its employees safe and healthy while providing economic stability for all is part of Owosso's Covid-19 action plan. Owosso is following all safeguards recommended by the World Health Organization (WHO) and the Centers for Disease Control (CDC).
Founded in 1949, Owosso Graphic Arts produces dies for letterpress printing, embossing, debossing and foil stamping in addition to thermal kiss-cutting, membrane switch overlay embossing, fabric embossing, soap & pottery stamps, heat sealing dies and many other applications. For more information, call 800.444.5552 or visit www.owosso.com.