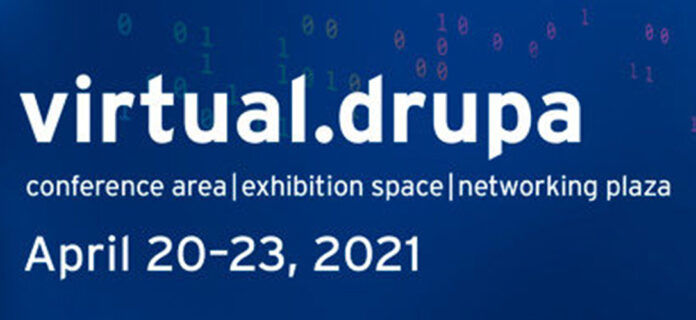 More than 200 exhibitors from 33 countries have registered for virtual.drupa, scheduled for April 20-23, 2021, at https://virtual.drupa.com.
"We are very pleased about the recent registrations from outstanding exhibitors and major global players such as HP Inc. and Landa Digital Printing from Israel. Both companies will enrich virtual.drupa with their impressive range of innovations in the field of digital printing technologies and broad range of applications," said Sabine Geldermann, project director of print technologies at Messe Düsseldorf.
Industry pioneer Benny Landa, Chairman of the Landa Group and founder of both Indigo and Landa Digital Printing, is looking forward to virtual.drupa, which he considers "…particularly important for our industry in times when face-to-face events cannot take place."
Heim Levit, general manager at HP Indigo, added: "We are very pleased to continue our commitment to the printing industry and drupa through our participation as an exhibitor at virtual.drupa this year. While we miss seeing our partners, customers and friends in the industry in a live show, protecting our employees and community remains a top priority. However, the last 12 months have demonstrated the very positive reception of our new NPI portfolio, which continued to drive significant innovation allowing businesses of all sizes to keep growing despite challenging business environments. We encourage everyone to visit virtual drupa and connect with us."
Most recently, other major and long-standing drupa exhibitors also have confirmed their participation, including Swiss conveying and processing systems specialist Ferag AG, manufacturer of high-performance UV curing systems IST Metz GmbH, leading web offset printing solutions provider manroland Goss web systems GmbH and global digital cutting systems specialist Zünd Systemtechnik AG.
virtual.drupa leading event partners
The event partners of virtual.drupa consist Leonhard Kurz (Platinum Event Partner), DuPont de Nemours, Electronics for Imaging (efi), Kodak, Komori (Gold Event Partners), BlueCrest, CloudLab, Fujifilm, Hybrid Software, Koenig & Bauer, Mimaki, OQChemicals and Xeikon (Silver Event Partners).
virtual.drupa current status
To date, more than 200 exhibitors from 33 countries have registered for virtual.drupa, including nearly all significant global players. With 46%, European companies make up the largest group. In addition to German manufacturers, the leading exhibitor nations are China, the US, Switzerland, Italy and Japan. More than 890 exhibitor representatives have signed up for the matchmaking function, which enables the arrangement of virtual meetings and direct interaction via a chat function before and during the event. Customers from all over the world have shown strong interest in virtual interaction, with about 2,400 international visitors registered for matchmaking and meetings with industry experts. Visitor registration is gaining momentum due to extensive PR and marketing activities, as well as invitations being sent out by exhibitors.
43 hours of presentations and web sessions
Comprehensive knowledge transfer is the keyword for virtual.drupa, which will be offered during more than 43 hours in keynote speeches, panel discussions, presentations and exhibitor web sessions.
For further information on visiting or exhibiting at virtual.drupa, visit https://virtual.drupa.com or www.mdna.com.