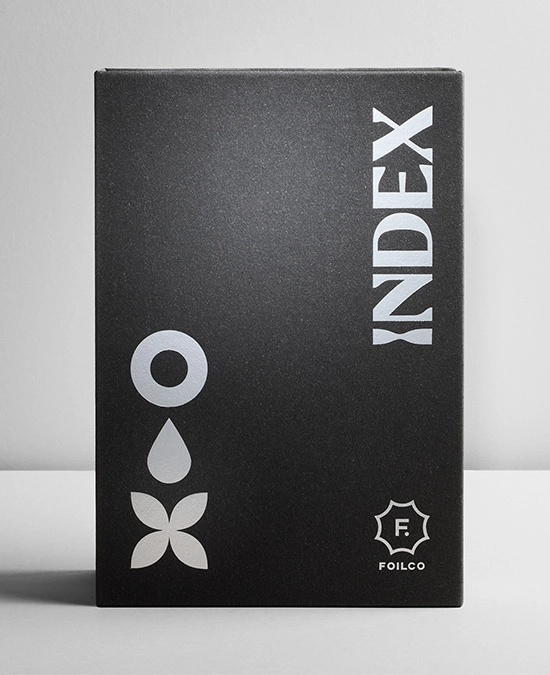 Warrington, UK-based Foilco, suppliers of the world's widest range of stamping foil shades and finishes, has launched INDEX – the first fully customizable foil swatch book for the design and print industry.
INDEX is designed with equal priority given to the environment and the end user's requirements. It's designed with a loose-leaf format, including 208 individual, fully-recyclable cards, which together showcase the full range of Foilco foils.
The cards are grouped in tonal colors in a three-stack ring binder with three dividers in each stack. Each individual swatch card contains a solid block of foil at the top; an illustration of the foil in various sizes of font type; details of the name, finish and color of the foil; as well as four tear-off foil chip samples.
Matt Hornby, Foilco's sales director, explained, "What makes INDEX unique is its ability to be entirely reordered and recategorized to suit the user. The book could be reorganized into brand colors for a specific product range or reordered by a client's price range. It's designed to make our customers' and creatives' lives easier, to help speed up decision-making, and to inspire them during the creative process.
On the reverse of each card is a unique QR code linking the customer back to Foilco's website, where the full product details for that specific foil can be found.
To order a copy of the INDEX swatch book, visit www.foilco.com. In the UK, INDEX will retail at £90 including delivery. Deliveries also are available to Europe and the rest of the world through Foilco's website. Owners of INDEX get free access to replacement swatch cards and foil samples, as well as first access to promotional materials and product updates.