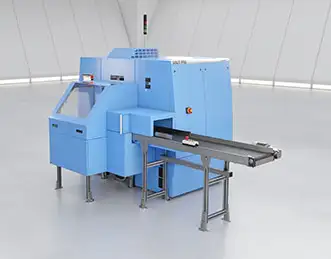 Muller Martini has launched the Solit PRO, a three-knife trimmer advancement. All the proven features of the previous model have been adopted – including the revolutionary SmartPress technology. In addition, the new 4,500-cycle three-knife trimmer with an infeed speed of up to 7,000 cycles per hour and a pile height of up to 85 mm includes a series of innovations that further improve the availability of the three-knife trimmer.
The Solit PRO has a completely redesigned infeed with telescopic belt, separating roller, feeder magazine, transfer flaps to the cutting table and servo-controlled, oscillating infeed pusher. The gate rollers provide precise infeed timing. The oscillating pusher allows easy feeding of new products. In addition, a unit has been developed which presses down the covers. This allows the gate roller to be moved to the exact thickness in real time. The thickness adjustment has been made faster so that it is possible to react even better to changes.
As part of the redesign, the latest generation of motors and control components also were used, and the complete lubrication system was optimized.
To learn more, visit www.blogmmus.com.