by Amy Bauer, The Binding Edge
Continual reinvestment and a commitment to educating customers have helped commercial binder and print finisher Wrap-Ups, Inc. remain at the top of its game.
Wrap-Ups, Inc. has established a reputation for its expertise and custom work in commercial binding, finishing and direct mail over 34 years in business in suburban St. Louis, Mo. Owner and President Jonathan Niezing attributes the success to a number of factors, including knowledgeable and hands-on management staff and continual reinvestment in the company. "Our customers come to us when they're looking for something that they can't get done somewhere else," Niezing said, noting that about 30 percent of the company's jobs are custom creations.
Wrap-Ups hasn't taken this high regard for granted, working to build and maintain such esteem by regularly sending current and prospective customers sample kits containing some of its best work and tapping into its website to share monthly tips and articles about its technology and processes. The company primarily serves the printing trade, but also has clients in the promotional products and packaging industries and in advertising agencies.
Located in Fenton, Mo., a suburb of St. Louis, and at the intersection of main north-south and east-west arteries Interstates 270 and 44, Wrap-Ups has quick and easy access throughout the metro area and for distribution nationwide. "The location has been pretty critical for us over the years," Niezing said.
Its facility consists of 27,000 square feet and an additional 7,500 square feet offsite for warehousing. Wrap-Ups runs two full shifts with its 32 full-time employees: five 8-hour day shifts and four 10-hour night shifts. Part-time and temporary labor sometimes helps fill in gaps. The company's products are delivered coast to coast, but Niezing said most clients are within the Midwest.
Investing in Excellence
As the print industry has evolved, Wrap-Ups has kept pace. "We have added equipment either as a new service or improvement to existing operations every year in business," Niezing said. "A guiding principal for me is 'wise investments today ensure a place for us tomorrow.'"
For example, five years ago the company invested in a Combi-Unica-Vetta folding and gluing machine from Italian manufacturer Fidia. At the time, it was one of the first of its kind in the United States, allowing the company to perform bi-dimensional folding and gluing for folders, CD/DVD pockets, envelopes, film folders, table tent ads and other items with both hot-melt and cold gluing systems.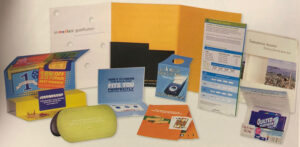 "This machine, with its versatility, provided us with the best platform to back up the versatility we market ourselves on," Niezing said. He described it as similar to "a giant Erector® Set" in which components can be arranged in different configurations depending on the job's needs. "It's almost like assembling a new machine every time," he said. It also allows for a number of operations to be performed inline. "We always try to focus on putting product in motion separately as few times as possible," Niezing said. "The fewer times we touch a piece, the better we can control costs."
In order to make these annual investments, Niezing said the company doesn't necessarily budget a specific amount but looks every year at what opportunities exist in the marketplace and performs an ROI (return on investment) study to determine if the expense can be justified based on the number of hours a year the unit will be in use, among other factors. At times, the company has backed away after an ROI study, at other times taken a leap of faith, Niezing said. For example, Wrap-Ups purchased a Horizon BQ 270 single-clamp fully automated perfect binder for small-run books when it saw that a number of customers were installing digital print engines to create runs of five, 10 or 25 books. At the time, Wrap-Ups had only its 6,000-an-hour Kolbus perfect binder, which takes an hour to set up and wasn't economical for such short runs.
Describing the Horizon purchase, Niezing said, "It's not a profit center but a service center for us." It satisfies a customer need and keeps those same customers returning when they have larger-run requirements of 5,000 and 10,000 books, he said. While larger runs are the company's 'sweet spot,' Niezing said, "Run lengths and the sizes of the runs have been continuously coming down. For us to be focused solely on large runs would be short-sighted."
Another area in which Wrap-Ups has invested in recent years is its mechanical binding operations. It already had capabilities for fully automated inline collating or high-speed gathering on its perfect binder, as well as inline punching. Wrap-Ups added a Gateway automated machine that not only inserts the spiral coil but produces and forms it, automatically delivering it to two machines. Wrap-Ups now can run up to 1,000 books an hour with plastic spiral, Niezing said, far exceeding the alternative of hand insertion and cutting.
Direct Mail Opens Doors
Similarly, the company saw opportunity when it added direct mail services to its roster in 1998. Noticing that many customers were taking product after folding, stitching or cutting operations at Wrap-Ups to direct mail vendors for print addressing and sending, the company explored bringing this work in-house to reduce time and cost for its customers, while adding value to its operations.
At the time, Niezing said, he didn't realize the markets that inkjet variable imaging capabilities – a different image or bit of information printed on each piece – would open up beyond addressing functions. Because of its finishing operations and its large-format capabilities, Wrap-Ups can process sheets from 28×40 inches to as small as 2×3.5 inches with multiple operations. The inkjet equipment can be tied in with other one-off processes, whether folding or stitching, or other inline operations.
"There are times when a printer may send a 28 by 40 sheet, and they have five or six images that need some variable data added. They may ask us to diecut some party hats, or cut into multiple sheets," Niezing described. "We manufacture personalized calendars, greeting cards with matching envelopes, variable gaming pieces, unique discount promotions with bar code redemptions' the list is endless."
One such project was a promotion for Office Depot stores in which the company, opening multiple new locations, wanted 5,000 coupons to distribute at each store, with 13 different prize redemptions among each set of coupons. For a printer, that would mean 13 plate changes, Niezing said. Instead, Wrap-Ups and the printer came up with a solution in which the printer created static press sheets and Wrap-Ups printed the various game pieces on the sheets as it did the folding and cutting.
Marketing Strengths
When Wrap-Ups has innovative solutions, it has come up with ways to share these with current and prospective clients to market its capabilities. For instance, the company designed a remittance envelope for binding directly into books, saving the setup and longer run times normally involved with floating traditional envelopes. This envelope includes a trim, which slides all the way to the edge of the book and can be bound into a perfect bound or stitched book without piercing the envelope itself.
In addition to the envelopes needed for the original job, Wrap-Ups went to a small design agency and had them create a PDF template for Wrap-Ups to produce as samples. It also has produced samples of intricate diecut and folding jobs and has amassed a number of creative examples, some from campaigns where clients don't mind Wrap-Ups sharing their work, others as blank samples and still others custom-designed by Wrap-Ups. "We're going in to show prospects a pop-up, or something that's very unique that grabs their attention," Niezing said. "We're going to show them something that not a lot of people can finish other than us."
He and Rick Campbell, vice president of sales, assemble boxes of these samples, making notes on each about what was done and why. A cover letter describing Wrap-Ups' offerings accompanies the packages. Niezing estimates the company sends out about five such sample boxes every month.
Similarly, Niezing has committed to customer education through Wrap-Ups' website, www.wrapups.com. In addition to a detailed breakdown of the company's capabilities and related equipment, it features a 'tip of the month' and a 'how-to' section with a dozen articles about binding methods and tips for the pre-binding production processes.
Niezing said that while a web service provider created the framework of the website, he writes most of the content; for example, a recent tip discussed the importance of the glue catch in perfect binding. "This is something we have to constantly discuss with customers and re-explain," Niezing said. But with some marketing copy in hand, such instructions can serve a variety of functions: going out in a mass mailing to clients, being featured on the website and being referenced by Wrap-Ups customer service representatives who come across similar questions from clients in the future. "Not only was it an education once, but we constantly refer back to that from a customer service standpoint because it's all very relevant," Niezing said.
He estimates website content is updated every six to nine months, or more frequently if major announcements occur such as a new machinery installation. Niezing watches how other companies use their websites, and he said he sees value not only in driving customers to return to the Wrap-Ups website but also in maintaining the company's image among current clients, potential customers and its own employees and new hires.
"When a new client calls you from out of town, they've heard you can do something. Once you've talked to them on the phone and you can refer them to the website, they can get some validity," Niezing said. "And the same goes for new employees. When they look at the website, they know you're up to date and invested in the business."
Family Roots
Niezing's father and mother, Carl and Freddy Niezing, founded Wrap-Ups in 1978. At the time, Carl Niezing had spent 20 years in the local printing industry, working his way into management within two local companies. There was talk among printers in St. Louis of the need for another bindery, and this, coupled with Carl Niezing's interest in working for himself, led to the beginning of Wrap-Ups.
In 1991, he asked Jonathan, who had been working in product production planning for Hallmark Cards in Kansas City, Mo., to return to St. Louis and join the family business. "I'll never forget my first day, when I asked, 'What is it you want me to be doing?' His response was, and I kid you not, 'I need you to run the place. I am burned out,'" Jonathan Niezing said. "He remained instrumental in teaching me various aspects of the business, but in the end, making my own mistakes over the years has probably provided the best lessons of all." Jonathan's sister, Diana Niezing-King, worked in the business from 1983 to 1985. Freddy Niezing retired in 1998, and Carl Niezing retired in 2001. Jonathan bought the business from his parents in 2007.
Today, Jonathan Niezing is focused on positioning Wrap-Ups for the future. "I believe traditional lines of print and finishing will continue to see pressures from other forms of media in relation to marketing and distribution," he said. "We are focusing our growth on more business-to-business opportunities where we can play a part in warehousing and intelligent distribution."
Currently, he said, about 10 percent of Wrap-Ups business comes from outside the mainstream printing companies. But he sees that segment – promotional products companies and end users – growing.
"While print is not going away by any means, ad budgets have been sliced and diced and companies are looking to more ways to market their businesses. That puts pressure on printing companies, one of our largest sources of business."
By utilizing the many aspects of Wrap-Ups toolkit – focusing on continuous capital improvements, operating more processes inline, marketing to current and potential customers with web presence and physical samples, and capitalizing on the company's longtime expertise and easily accessible central location – Niezing foresees continued success in growing its markets to survive and thrive in the future.