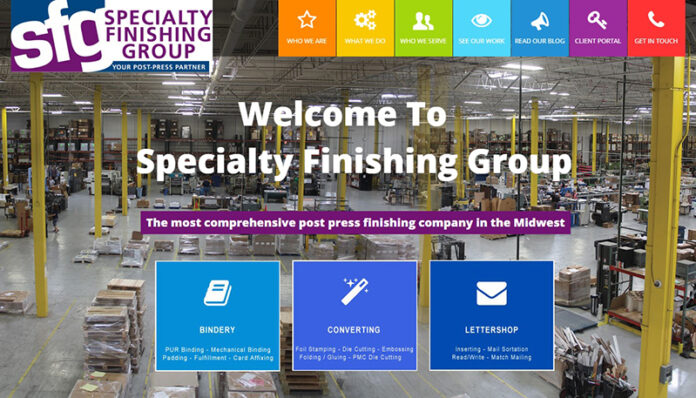 by Amy Bauer, The Binding Edge
Despite the travails of the economy and consolidations in the print industry, Specialty Finishing Group marked record years in 2010 and 2011 – the best of the previous five. Chief Executive Officer Jim Gallo attributes these successes to the Elk Grove Village, IL, company's efficiency, technology, customer focus and conservative use of resources.
The company's core services are binding, mailing, finishing and fulfillment, with the business currently split evenly between mailing and binding. Fulfillment crosses both categories and represents about 20 percent of the company's business, said John Mascari, executive vice president.
Creative offerings such as cloud applications for customers to track jobs and on-site finishing and mailing for large customers help the company stand out. And Specialty Finishing Group's binding operations have taken on the model of the mailing division for greater efficiency, creating more "inline" processing by using its equipment as modular finishing units. Fewer touches mean faster speeds and tighter quality control.
"You can 'plug and play' a production line specific for the project you are running," Mascari explained. "We try to go from cut sheet or signature to carton as much as possible."
Deep roots
Specialty Finishing Group was formed in July 2010 when Wayne Williams, owner of Specialties Binding, and Mascari, partner in JMM Services and P3, came together to create a one-stop postpress destination for their mailing and binding clients.
Mascari describes Specialty Finishing Group's long history within the binding industry, with roots among the nation's earliest binderies. His grandfather, John Michael Mascari, was president of Spiral Binding of Illinois in the 1940s through his death in 1967. John Michael Mascari's son, John Mascari, took over Spiral Binding of Illinois, worked at Bee Bindery and started JMM Services in the mid-1980s. Wayne Williams, who owned Centennial Bindery, started Specialties Binding in the 1990s, and five years ago he purchased the assets of Spiral Binding of Illinois. As the companies came together in 2010, Williams appointed Gallo, who is now a partner and CEO, to assist in the transition.
Specialty Finishing Group employs nearly 270 people in off-peak months, with more than 330 employees during the busiest seasons. Williams owns sister company Staffing Network, which fills the company's temporary labor needs, as well as offering skilled labor to customers. Specialty Finishing Group runs 24 hours a day, five days a week, but expands that schedule as jobs dictate.
Two buildings about five blocks apart, in the western Chicago suburb of Elk Grove, Ill., house Specialty's operations – a 60,000-sq.-ft. bindery division and a 77,000-sq.-ft. mailing division. Gallo said the company is actively seeking a new location to combine operations, with a goal of securing by mid-fall an approximate 125,000-sq.-ft. location in roughly the same area.
A single location would offer greater efficiency, Gallo said, particularly since a number of employees are cross-trained and work in both bindery and lettershop operations depending on the needs. Such cross-training is particularly helpful on the mail side, Gallo said, where much of the work is time-sensitive. Other economies of scale would include reducing the office space, having a single lunchroom, better docking and combined customer service and sales departments, he noted.
Core customers
Printers make up the bulk of Specialty Finishing Group's clients, but print management companies and publishers of student planners are large customers as well. The company binds more than three million books and calendars annually for print management companies, and it kits and fulfills all types of projects, from customized books and calendars to sending tens of millions of newspaper inserts to thousands of locations, Mascari said.
A large percentage of clients are from the Chicago area, encompassing western Indiana, Illinois and southern Wisconsin, but customers also range from Indiana to Ohio. Specialty Finishing Group's largest customer, Gallo said, is an out-of-state company.
Last year, the company built up its binding division, buying a smaller PUR binder for digital runs and beefing up its collating. Moving to more "inline" production has created greater efficiencies and fewer chances for error. "Our modular lines are the way to have less human touches and tighter quality control," Mascari said. "Printers have been doing this forever. They use their presses as production lines by adding inline folding, inkjetting, diecutting – you name it."
"That is why printers find it difficult to be profitable when providing too many bindery services. Most printers don't have the steady postpress work to be able to create bindery lines, so they utilize binderies," he continued. "We get work from multiple printers and brokers so we can have steady work and be more efficient. This translates into giving printers pricing that helps them get projects, while complementing their own service portfolio."
This year, Specialty is focused on its lettershop services, with a goal to increase mailings. During the busy season, the mailing division sends out 60 million pieces a month. Such large volumes allow Specialty Finishing Group to have US Postal Service offerings on- site, affording smaller printers some of the same perks of time savings and reduced postage costs that Specialty can offer larger printers. "There are millions of dollars in saving that lettershops can save our customers," Gallo said, noting volume and other discounts available through the USPS.
Variable data capabilities also have allowed Specialty Finishing Group to offer a number of options to clients looking for laser-targeted marketing materials. Gallo said items such as personalized marketing mailers from credit card companies and personalized coupon mailings for grocery chains, using data collected from shopper cards, already regularly employ such techniques, and he expects the applications to grow. Specialty Finishing Group then incorporates other value-added services, such as card-affixing to credit card mailers, making it a one-stop shop.
Award-winning service
Special projects also are a niche for the company, Mascari said. "We love working through projects with customers up front to find ways to do things better and save our customers money," he said. For example, the company won the 'They Said it Couldn't Be Done' category in the Binding Industries Association's 2012 Product of Excellence Awards (see the full list of awards and photos of the winning pieces on page 20). The price booklet project originally was slated to encompass five million small books, and Specialty was able to plan the job multiple-up so that it was essentially only binding 1.25 million books in four weeks. Specialty Finishing also won a 2012 Product of Excellence Award in the mechanical binding category for a self-promotional piece.
Mascari is a member of the BIA board of directors and said membership in the association has been invaluable. BIA Manager "Justin Goldstein has injected it with new energy and camaraderie," Mascari said. "He has worked diligently to let printers know how much binderies care about what we produce for our clients. It's important to let them know that we are a natural extension of printers, print management companies and publishers by bridging associations and giving printers a way to find the great binderies that are part of the BIA."
Digital link
Another service that makes Specialty Finishing Group a favored vendor is its cloud applications, which allow customers to access and even submit or revise job information from remote locations via the internet. For the right project, Mascari said, a cloud application is developed to allow a customer to see multiple variables for a job, such as receiving, inventory, status within the finishing process or UPS tracking.
"The applications are totally customized," Mascari described. "One customer wanted to be able to pick from multiple logistic carriers and have bill of ladings be batched to each. If the project is right, it is very little cost to the customer."
The applications also are advantageous to Specialty in that they cut down on duplicate paperwork and the chances for errors from change orders. "We don't want to be scrambling around with revised spreadsheets every day. That is dangerous," Mascari said. "So we started making the apps so our customers could edit an order and groups would be emailed and asked to 'sign off' on the changes. That eliminates spreadsheet revisions; there is just one 'live' document to be shared and viewed by whatever teams are necessary."
The applications also can streamline the ordering process. With the binding that Specialty does for student planners, schools order from the publisher and Specialty creates customized handbooks with logos and school calendars bound together with annual planner pages. Schools also can order coordinating hall passes, sticker sheets and vinyl pouches to accessorize the planners, and that data goes to the cloud application to create job tickets.
Off-site expansion
One of the areas in which the company is growing is in providing more mailing and finishing services off-site, at customers' locations. Gallo said Specialty currently is putting tens of thousands of dollars worth of equipment into one of its printer customers' locations so that sensitive printed projects, such as health insurance documents, don't leave the printing plant. "They want security; we're going to give them security," Gallo said. "This is helping them and helping us. We're getting the work and putting the machinery to work."
Mascari said, "It is a great way for a customer to get fixed pricing and a reduced rate because we are working within their brick and mortar."
Team effort
Gallo credited Mascari and the sales team with bringing in new large customers over the past year, including several program deals – those that are repeated at set intervals. Such program work for Specialty Finishing Group includes producing a bi-monthly "Steer Clear" teen driving safety booklet for State Farm insurance company and packaging and kitting Monopoly game boards for McDonald's restaurants. "Those things that recur every year; they form a great foundation from which to build," Gallo said.
But it wasn't just sales that spurred the record years in 2010 and 2011, Gallo said. He gives credit for these record performances companywide. "Our employees worked well – our office staff and CSRs (customer service representatives) all chipped in. In addition, our production guys were fantastic in looking at every single line and asking, 'How can I make this more efficient?'" he said.
"There is no division in the company that didn't get better in 2011, and our customers got better as well," Gallo said, noting that Specialty had almost no bad debt write-offs from customers last year. "When your customer has a great year and you're one of their favorite vendors, you're going to have a great year as well."
Employee rewards
For the first time last year, the company implemented a bonus plan for all employees. Gallo said a percentage of net income each month was put into a bonus pool and allocated to employees at the end of the year. "They had never had it before, and it went over great," Gallo said. "They really appreciated it."
Another employee perk was the addition of music in the plant this past year. Gallo said that while at first everyone had to adjust to taking turns selecting favorite genres – which range from rock and roll to tejano – it ultimately has made a measurable difference. "People love it," he said, and today the listening selection is up to the mood of the group.
"There's tons of studies on music in the plant, and we saw it firsthand," Gallo said. Production levels on books that the company manufactures on a regular basis increased after the music started playing, "and not by a little" he said.
Future goals
Moving forward, Gallo explained that his long-term goals include continuing to grow the company and expand product lines within its core services. "It seems like everyone is trying to take advantage of offering more services by simply expanding their equipment list," Gallo said. "The trend to digital and smaller runs has resulted in a lot of our customers and our competition buying short-run – but very expensive – equipment, resulting in unfavorable ROIs."
"But there is this great line," said Gallo. "'Singers want to be dancers and dancers want to sing.' We don't laminate or diecut. We let the experts do that. And we definitely don't print. We're not going to compete with our customers. We try to stay in our core competencies."