By Jewlissa Frickey, writer, PostPress
"The ongoing renaissance of print is driven by the desire to create a touchpoint in an increasingly touchless world," said Print Panther in the Konica Minolta Extreme Digital Guide. "Power in print is evolving, materializing into an all-encompassing medium that is able to captivate and inspire. Print, as it is today, is rekindling the connection between art and exhibition, providing the wanted corporeal element to brand, product and experience."
The FSEA Gold Leaf Awards program assessed entries submitted from around the world by finishers and binders that want to compete against the best in the industry. New technologies have fueled growth with expanded award categories in areas such as digital foil and other specialty UV coatings. Entries are judged on design, execution and level of difficulty in more than 35 categories, with a gold, silver and bronze award presented in each category.
Best of Show Honorable Mention at the 28th Annual Gold Leaf Awards went to Print Panther for its Konica Minolta Extreme Digital Guide for showcasing the inspiring, tactile coatings and foils that now can be achieved digitally with Konica Minolta's MGI JETVarnish 3DS with iFoil-S. "We wanted to make print an experience," said Christine Yardley, president of Print Panther, "and I think we accomplished that with this piece." 
Every feature was deliberate, conveying a message with each design and copy. "The lead page says Extreme – and we wanted to say that first because print is becoming extreme," said Yardley. "Having something with a touchpoint gives it that extreme edge." 
Each page features a unique image and technique. Print brings bears to life with the use of Invercote 11.4pt paper combined with a matte lamination, spot varnish, copper foil and matte gold foil. Imagery expands on another page as viewers sense the crisp coolness of a soda can where condensation leaves a vivid mark on Supreme Matte Cover 110lb paper with soft-touch lamination and spot varnish.
The guide used a cross section of papers and laminates and included foils, spot varnishes, flood varnishes, foil on foil, varnish on foil, and multiple foils. Each page utilizes a different effect, highlighting topography and the design elements. "We worked with amazing typography, photography and illustration – each page had a purpose," Yardley said. 
Each page was meant to exhibit a different embellishment with the print quality of the AccurioJet KM-1e LED UV inkjet press and the AccurioPress as the colorful backdrop. However, the guide required the use of various machinery, including the AccurioJet KM-1, AccurioPress, AccurioWide 160 and MGI JETVarnish 3DS with iFoil-S.
Within the guide is a detailed production note page. It outlines the types of paper, lamination, varnish, foil and any other specifications used for each page. "Papers such as the Neenah Starwhite Astrosilver Cover were the perfect papers for the Accurio KM-1 LED UV inkjet press, really illustrating the amazing print quality on a textured stock" Yardley said. 
Other papers featured throughout the guide include a Supreme Gloss Cover, Pacesetter Semi Gloss Label Stock, Tango C2S, Cougar Cover and more.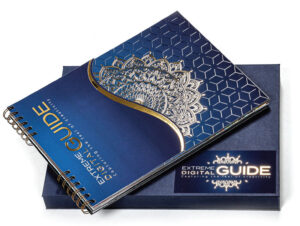 The paper stocks were accented with gold foil, silver foil, diecuts, soft-touch and matte laminations and raised spot vanishes – all bringing to life toucans, zebras and bears … oh my!
With so many moving parts, so comes its challenges. "We had to tweak a few of the diecut pages, but overall once we had the plan in motion it ran wonderfully," noted Yardley. The decision on using a split bindery method with wire-o was no exception to the challenges. "It made the process more time consuming, but overall, it was worth it in the end," Yardley said. 
Despite the global pandemic, Print Panther saw an opportunity to reach people with its digital guide. "The world is going to be looking for new ideas when we emerge from this, and print can tell a story like nothing else can," Yardley said. 
Print Panther's objective was to make print an experience. Completing the project left only one question: Inspired? On the last page of the digital guide, viewers were left to contemplate the imagery they had seen, the last attempt to rekindle the connection between consumers and print. From design to copy, every part conveyed a message. The lead-in page delves into the renaissance of print and the desire for touch.
The overwhelming response to Print Panther's Konica Minolta Extreme Digital Guide solidified its placement at the FSEA Gold Leaf Awards. "It was a labor of love that did us proud," said Yardley. "I still smile when I look at the Inspired? page. It's just a wonderful marriage of foil, typography and message."