By Liz Stevens, writer, PostPress
As print embellishment technology continues to evolve, it is important to understand the advantages and limitations of certain processes. FSEA Executive Director Jeff Peterson sat down with a trio of executives to get the latest insights on digital technologies for coating, foiling and decoration. 
Applications for digital decorating
When it comes to digital decorating, some applications are a better fit for using digital spot and digital raised coatings and digital foil. Christine Yardley, president of Print Panther, voiced her view that while these digital embellishment technologies can be adapted to just about anything, she finds that small-run packaging, a somewhat niche market, is an ideal application. "I think the best fit is small-run packaging, cards or brochures and, really, any marketing material or direct mail," she said. According to Yardley, embellishment and protective coatings currently are very popular. "Nowadays, I don't see too much small-run packaging that doesn't have some kind of raised coating or foil," she said.
Rick Salinas, vice president of marketing, Duplo USA, pointed to great interest for digital embellishment in the book industry and among consumer products producers as they target first-time customers. "When you go into a bookstore," he said, "if you notice, they use embossing, debossing, soft-touch and foils now. Some of the book covers are like works of art. It addresses the challenge of getting somebody to pick up your book – trying to get that little edge when you don't have brand recognition." 
The same goes for branding of other consumer products. "It has become hugely popular for first-time customer engagements," he explained. "What I mean is, when producers don't have brand recognition and they are trying to engage people." Salinas raised the example of the marijuana industry, where there is no main brand; there is no Marlboro in the marijuana industry. "When people walk into dispensaries," he said, "they just see a wall full of items. Sellers have to have something that engages people; that is why they use foil and soft-touch and raised coatings." 
From his vantage point, Myron Werner, director of sales, packaging and printing, KURZ USA, has seen eager adoption of digital decorating by online print providers of photo cards, invitations and small business marketing collateral. "These are areas where a lot of people have excelled with these technologies," Werner said. "The benefits of digital foiling and spot coatings – quick speed to market, no changeover time, variable data – are perfect for continuously changing jobs or for a brand that requires small-run packaging." 
Digital vs. traditional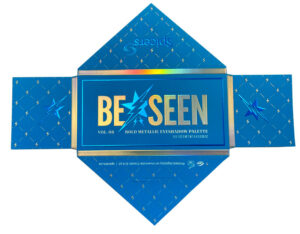 At Print Panther, Yardley has a short list of criteria for choosing digital or traditional embellishment. "Right off the bat, it is the length of the run. If it is a super long run, I don't think digital is the right choice. And, also, size restrictions." 
She noted that the intricacy of the image to be printed is another decision factor. "If it is super intricate, I can sometimes get a better result with traditional foil." Also on her checklist are substrate and stock thickness. "If I am using a really laid or textured stock, it could be better suited for a traditional embellishment. And thickness of the stock matters because sometimes there is a limitation on my equipment as to the acceptable thickness."
Salinas did not offer a hard and fast checklist but stated that he has seen a real experimental push in the industry, with elaborate, multi-step digital techniques producing some spectacular results. He did point out three criteria for making the digital vs. traditional decision for a job: quantity, whether there is variable data to be printed and whether there is a tight job budget. Peterson concurred, stating that while commodity items like toothpaste demand a low price point for packaging, when a product's selling price is high enough, elaborate packaging may not only be a reasonable expense but also may be a must for creating a stand-out product.
For Werner, the substrate and the print process are critical components to review when deciding whether to go the digital embellishment route. "There are a lot of different digital technologies and equipment out there," he said. "Knowing what the substrate is going to be and what the process is going to be – the print process – makes a big difference in whether digital is right or not for a job. At KURZ, for example, we have a toner-based system that would work on dry stocks very effectively, but you would have difficulties with our inkjet systems when working on some of those dry stocks. How the equipment and the substrate work together is critical to selecting digital or more traditional processing methods." 
Advantages of digital coatings and foils
When it comes to the big advantages of digital coatings and foils as embellishment techniques, Salinas pointed to fast turnaround and limited operator intervention. "In being able to create an embellishment through a digital file," he said, "many times you can be producing the piece within minutes of it arriving at the shop, especially if you have an automated workflow." 
He described, for example, how his company's spot UV coater works with EFI's job flow. "We can take the fifth color file – for the polymer – right out of the job file when they send it to the press; that color file goes straight to our machine. So, as soon as the material comes off the digital press, it goes into our machine which reads the bar code with the instructions for the digital spot layer. No user intervention at all. That is what the digital advantage gives you." 
Werner agreed with Salinas that digital files offer an advantage, and he pointed out that the ability to make changes to a digital file provides flexibility not offered with traditional techniques. "With those digital files, you don't have the tooling," he said, "so you don't have to order the tooling, you don't have to produce the tooling and you don't have to pay for it. This also increases speed-to-market and allows you to do very high-end work and very small volumes." 
Salinas noted that it is feasible to produce just one piece and that a lot of innovation can be accomplished with a digital format that cannot be done with traditional methods. In addition, in some instances, it is possible to apply foil as a first step and then begin the 4-color digital process on top of the foil, opening up new creative design avenues.
Limitation with digital
As with any technology, there are limitations of the digital process that potential buyers should be aware of before wading in. Werner said that it is important to be clear on what new techniques are desired and then to fully understand the range of equipment, including the capabilities and limitations of each set-up. 
"In our portfolio," he explained, "we have digital foil technologies that can be incorporated not only as a finishing technique but also as a pre-print process where customers can then create their own metallic colors and unique designs by overprinting." Also in the marketplace are digital decorating technologies that use a polymer-based adhesive with hot foil release technology, and some that transfer using more of a cold foil methodology. Understanding the various techniques and the substrates to which they are best suited, finishers either can choose a prepress, pre-print type decoration or a postpress, post-print decoration. 
Werner stressed that all processes and equipment have some limitations but that the limitations vary from equipment to equipment and from technique to technique. "It is important to understand what you can do with what type of decoration," he said, "and then understand what type of consumables will be needed for that process and equipment."
Yardley reiterated her thoughts on the limitations of digital processes. "The length of the run is not as much of an issue anymore because they are making up for speed on these new machines," she explained. Yardley pointed out that if it is a very intricate foil design, a more traditional foil stamping method usually works best. She also stated that the final cutting and finishing step is a very important aspect to consider because, as she said, "You can't just cut your business cards on a guillotine. Finishing is a huge part of it, and with digital you can't do your finishing in a traditional way anymore."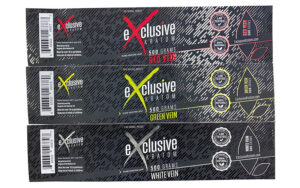 Salinas also emphasized this aspect of going digital. "You have just created this stack of beautiful, raised UV covers or maybe embossed," he said. "What now? You just can't pick up that stack with raised spot UV on the right side of the sheet but not on the left and walk over to a guillotine cutter, because now you've got a waterfall of paper with polymer that is going to get crushed when you put it into your guillotine cutter." Salinas has seen an increase in the popularity of his company's slitter cutter creasers, which can finish that type of work without damage.
What to keep in mind
Yardley noted that potential buyers should know that digital equipment requires operators with a certain level of skill, especially prepress and file prep skills. She also said that digital machinery has environmental requirements. "I think it is very difficult for a large shop to put a smaller digital profile within their shop," she explained, "because the environment has to be so clean and so perfectly controlled for digital foil and varnish to really work well. You can't stick a digital inkjet decorating machine in the middle of a litho shop; it has to be a very clean and orderly environment for this to work." 
Salinas advised potential investors to consider the entire workflow of a digital choice, as opposed to focusing only on the embellishment process. "Getting an understanding of workflow is first," he said. "Then the question is: What are you trying to achieve by adding this embellishment? Is spot UV where you should start? Is foil where you should start? Is it hot foil; is it cold foil? Do you want to do it inline with raised spot UV?" And, echoing Yardley, Salinas stressed operator skills. "It all looks easy at the show, but there is a big learning curve on that type of equipment."
Werner's advice mirrored that of Yardley and Salinas: Understand the entire process; learn about equipment capabilities and which equipment marries well with which embellishment techniques; and know that operator skills and good workflows will be very important with new machinery. "It is critical to understand what you can accomplish in one pass or how many passes your processes are going to require," he said. "If you think you are just going to get these units and do some of these really exotic, beautiful pieces all in one pass, and it is all going to be automatic, you really need to understand what the capabilities are and what the consumables are so you can make sure that the whole process works effectively."
Market for digital decorating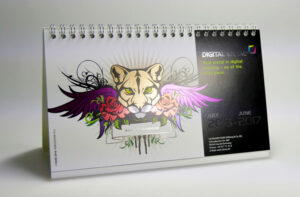 Yardley felt that the market was ripe for digital decorating. "Today, very few people want print without some kind of added value, without some kind of embellishment," she said. "Most of my clients, which range from real estate to pharmaceutical, want that extra punch to their marketing materials, especially coming out of this COVID-19 situation." 
Yardley sees her expertise as a real value-added element. "I don't have to sell the embellishment, but I have to sell the limitations," she said. "It really is educating your client with good advice. They might think they want their logo in foil, but they haven't thought it through completely." Yardley sees giving good advice as another way to lock in a client. "Once you get their marketing material the way they want it – you've got their color perfected, you've got the foil they want, you've got the look they want – then they come back to you because you have locked them in. They can't just go down the street or order from an online printer to get what they want. They have to come to you because you give them that extra value."
Salinas offered two recommendations: Encouraging effective design and showing clients their options. "Sometimes it takes people a little bit of time to understand that less is more," he said. "People get carried away with embellishment, and you almost lose the effect because they have gone so overboard with it. Learning that balance is important." 
On the flip side, showing clients their options, even after they have passed on embellishment, can be very useful and Salinas has seen this in practice. "When some of our clients talk to customers about embellishment and the customers decide, no, that wasn't really what they wanted to do, digital embellishment can really show itself off. Because the stuff is done digitally and is so easy, when they deliver the job, they will send along samples with embellishments just to show how it could look. Fifty to 60% of the time, the next time that job comes in, the customer goes with the embellishment because it just wowed them so much," he said.
Werner agreed wholeheartedly. "It is difficult to put a piece of print advertising out there and convey to your target audience what you are really doing," he said. "They need to see the piece in their hands, to touch and feel it." Werner recognizes the challenge of operating in a virtual environment, as social distancing keeps people apart. "People are going to have to look into how we can show off these pieces electronically more effectively in the future. But the simplest answer to this question is to show the samples and have people touch and feel them. They sell themselves."  
PostPress would like to thank Christine Yardley of Print Panther (www.printpanther.ca), Myron Werner of Kurz Transfer Products (www.kurzusa.com) and Rick Salinas of Duplo USA (www.duplousa.com) for their assistance with this article which was summarized from their participation in the FSEA Online Learning Experience virtual workshop "Digital Decorating – Where Does it Fit and Where is It Going." For more information on this topic – as well as other video presentations – visit the FSEA Online Learning Experience's YouTube playlist by visiting www.FSEAConference.com.