By Liz Stevens, writer, PostPress
The Foil & Specialty Effects Association (FSEA) awarded its 2020 Lifetime Achievement Award to Charlie Brown, founder of Metal Magic, Phoenix, Arizona. The professional journey that Charlie traversed enroute to becoming a Lifetime Achievement Award recipient began far from the diemaking industry, but once he became a diemaker his business quickly took hold and thrived, validating that Charlie had found one of his true callings. After a long, successful run, Charlie now has handed the business reins to his son, Cy, as Charlie shifts to investing his time and energy into another of his callings: delivering medical aid to those in need.
The right guy, the right place, the right time
Charlie, a native of Phoenix, earned a BS in chemistry from Arizona State University (ASU) and subsequently took a job as a research assistant at the University of Arizona. He soon gravitated toward another discipline and returned to ASU to earn a bachelor's degree in electrical engineering. Equipped with chemistry and engineering skills, Charlie was in the right place at the right time to respond to a serendipitous call for help from the Arizona Republic newspaper when the publisher encountered a vexing problem with a new Heidelberg press. 
"I was at a party one night," Charlie recalled, "and the newspaper's press was down." Arizona Republic had flown Heidelberg technicians in because the brand-new press had an electronic problem, but the technicians were stumped. "Electrical engineering was my expertise at the time," said Charlie, "so somebody at the party pointed a newspaper employee toward me. The newspaper offered me a substantial sum of money at the time if I would leave the party to look at the press. I was kind of a young guy, and this was a big deal, so I left the party and went down there. I was able to solve the problem and get the new press back running in a relatively short time." Despite having no experience with printing presses, Charlie solved the problem, saved the day and made lifelong friends in the printing industry. 
The early days
Through his work with the newspaper, Charlie was introduced to the world of diemaking and spied a niche. "At that time," he said, "there were very few die shops in the United States, and they were mostly localized. It was kind of a complicated black magic on how you ordered a die; even the pricing of dies was black magic." Customers in Phoenix had to order out of state and wait several days for their dies. "Of course, in the graphic arts industry, everything is on fire," said Charlie, "so I decided that if I could figure this out, it might be a good deal. I did it at night after I was done with my other business I owned at the time, and pretty soon it just began to take off very, very big."
With a loan from his father, Charlie opened his copper die engraving business, Metal Magic, in 1988. With his wife, Donna, handling the front office and orders, Charlie applied himself to etching and finishing dies. The business was an early success, allowing Charlie to grow the company. He brought CNC milling into Metal Magic in 1990, confident that technology and CNC milling were key to the industry's future. 
"We brought in CNC for the wine label industry," Charlie explained. "Wine labels are relatively repetitive dies, all very similar in size. We thought that if we could do that electronically and write the programs for the CNC, we could get rid of a lot of the hand milling, and it would be so much faster." Metal Magic bought a CNC mill and began digitizing artwork which, at that time, was all on film. "We put in a machine that would digitize the film and convert that into CNC code, and that was our beginning with it." CNC mills were not only a time-saver; they raised the bar for diemaking precision and quality. "Up to that point, we might have had 12 hand-cranked mills with 12 people who ran a kind of giant Etch A Sketch machine," Charlie said. "But the new CNCs made a beautiful product, a stunning product."
A year later, Charlie created a brass engraving department with its own hand engravers and CNC machines. Charlie had recently helped Ed Hughes, also a previous FSEA lifetime Achievement Award recipient and owner of Perspective Engraving in Las Vegas, get his copper etching department out of a predicament. When Metal Magic's customers began asking for brass dies, Charlie saw a new opportunity to expand. "Brass dies use a lot of the same basic theories as copper; brass just has a different artistic talent pool," he said. As far as the artwork and the order taking and everything, they are very similar." Charlie purchased Perspective Engraving in Las Vegas and then moved the people and the equipment to Phoenix to form the basis of his brass die department. 
Metal Magic subsequently acquired several other engraving companies – Redeen in Chicago, Wheeler Engraving in San Diego and Cordell Engraving in Northern California – folding all of them into one company with a modern 52,000 sq. ft. Phoenix manufacturing facility for copper, brass, duplicate dies, counters, and hot foil, cold foil and digital foil. 
A business in high gear
Charlie's work ethic, eye for opportunity, business savvy, and chemistry and electrical engineering expertise led to a flourishing business with a solid reputation for quality and service. Of the nearly countless jobs completed by Metal Magic, a few stand out as particularly memorable.
Charlie's most difficult die and printing job was for the decorated bottle caps from Haleakala's Passion Orange Guava drink (POGs), which spawned the kids' game and a collecting fad that reached global proportions during the 1990s. "That probably was the largest foil-stamping fad that ever went on, end of subject," said Charlie. "We were producing over a million POGs a week. We couldn't get enough metal; we couldn't get enough anything." Metal Magic ran 24 hours a day, seven days a week making POG dies. "It was just a fad," he continued, "but it consumed almost as much metal as the copper metal suppliers could produce at the time, and foil and everything else. It was huge." 
The job that has Charlie laughing, even now, was for a texture die. "The customer sent us a piece of paper that they had hand-done, and they wanted the die to match the texture," Charlie recalled. "We looked at it and decided that it looked like asphalt texture, so we put a piece of metal out in the parking lot and drove the forklift over it and embossed the asphalt into the die. Then we polished it and sent it out. And it worked just perfect. The customer was really, really happy."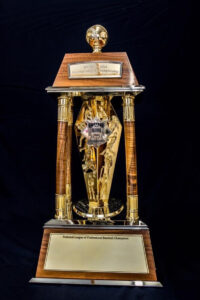 When asked which die job he would most like to be remembered for, Charlie initially had trouble narrowing the field down to just one. "We are very proud of all of them," he said. "Each die is the best die; it'll be the next die out of the plant. But the one that we got the most excited about was when the Chicago Cubs won the pennant." Charlie's son, Cy, picked up the baseball story from there. "It was a unique die, not really for our industry. We made some special dies that were used to make the trophies for the National League Conference," Cy explained. "The Conference built the trophy out of our dies in 2016 when the Cubs won the National League Championship and broke 'the Curse of the Goat.' It was really fun. All of our employees watched it on TV and saw the Ricketts family, which owns the Cubs, hold up the trophy that was built out of our dies." 
Metal Magic's work has been used for the great American pastime as well as for important medical research. "We made some dies for the medical center at University of California, Los Angeles (UCLA)," Cy said, "that were used to emboss band aids to be used on burn victims. The University was testing different depths of divots in band aids to learn which was best for covering burned skin and promoting healing." 
Nowadays, as ever, the company creates dies for a wide range of customers. Metal Magic engraves brass and copper dies for products from stationery to wine labels, commercial packaging to annual reports, and trading cards to book covers, with the number of dies produced by the company now in the millions.
Reaching out, giving back
Charlie and Metal Magic have been members of the FSEA since it was founded in 1992, and a number of Metal Magic's team has served on the FSEA board over the years. In addition, Metal Magic has proudly supported FSEA functions and publications. One of Charlie's beliefs is that people should help one another. When FSEA held its 2008 conference in Scottsdale, Arizona, Metal Magic opened its door to the conference visitors. "Our die shop is open," said Charlie, "We like to share and promote the industry."
"I remember when Charlie and Metal Magic contacted me after we had taken over FSEA," recalled Jeff Peterson, current FSEA Executive Director. "Charlie was adamant about FSEA reaching the graphic design community. He had some great ideas that most definitely helped spark initiatives to better reach designers and educate them on the value of foils and specialty effects."
Metal Magic has been instrumental in the growth of the foil stamping and embossing industry. Over the years, the company has established itself as an industry leader and has developed several innovative products for the industry.
The future for the industry, Metal Magic and Charlie Brown
Charlie Brown has watched the industry grow and change over the years. The biggest change he has seen is the explosion of digital technology. "When digital prepress came into the industry," he said, "up to that point everything had been done on cameras and film. Now, digital artwork is sent electronically; we don't have to go to FedEx and pick the film up like we did in the old days. The artwork is emailed or uploaded from the customer, processed and sent straight to the plate for imaging." Charlie stated that, with digital technology, dies now are all uniformly milled, with precision  within 1/10,000th of an inch. 
To grow the industry, Charlie believes that education is needed. "Foil stamping and embossing is perceived as a very expensive finish; that is not necessarily true for the value that it adds in, but the new designers and graphic artists coming out of design schools don't really understand what specialty effects are available," he said. 
Metal Magic occasionally holds classes to educate designers on what they can design into printing. "The use of three-dimensional dies has scaled way back in the industry," Charlie explained. What the industry can do is train these new people and share samples of what can be produced." Charlie always is eager to help customers who want to produce work samples. "If customers want to make a promotional piece, we'd like to partner with them because we think it will be good for the industry," he said. "I think that is the biggest thing the industry needs to work on right now – the education of the designer and the whole design process."
As for his own contribution to the industry, Charlie would like to have made an impact toward ensuring its future. "I'd like to see the industry keep moving forward," he said. "Digitization and CNC milling are good things. I'd like to see us be more open, bring more people into the industry and help each other more. We would like to take a little of the magic out of making dies and make it a little bit more of a manufacturing process – faster and easier and less expensive – to keep the industry alive. Education for all is the key."
Cy Brown agrees. "Over the years," he said, "we've been really proud that Charlie has set a course for us in educating others. We have had competitors from all over the world visit and, free of charge, we teach people our way of engraving dies. We have become lifelong friends with people worldwide by teaching them how to make dies so that they can make a better-quality product and grow the industry."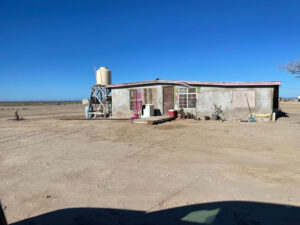 Charlie believes that Metal Magic is in good hands with Cy now running the day-to-day. "My son grew up in the company," said Charlie. "He spent long hours here as a youngster after school while we made dies. So, he has grown up in the industry, and he has a Global Business degree from Arizona State University. It has worked out exceptionally well." Charlie added that Cy has inherited his parents' work ethic and more: "He also is extremely mechanical. We always built and worked on our own equipment. We built our own acid baths, CNCs and several other machines, and Cy was right there on the ground floor helping us do that. He has a very high mechanical aptitude."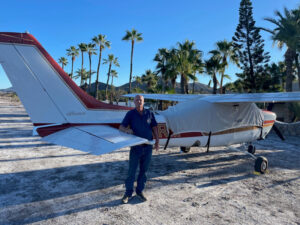 Charlie now devotes most of his time to his passion: helping those in need in Mexico get medical care. As a licensed pilot for over 40 years, Charlie flies 300 to 400 hours per year as the chief pilot for charities that fly doctors to three medical clinics in the Baja of Mexico. Metal Magic sponsors one of the Mexican clinics and even created one of the company's trademark products for it: a copper plaque made by Charlie's own metal magicians.
"It is similar to Doctors Without Borders," said Charlie. "I fly the doctors down there and we land right on the beach. We go down to Lopez Mateo or Laguna San Ignacio – little, tiny communities – but people will come from that whole region of Mexico to get help." The doctors sometimes treat up to 150 people per day, performing surgeries, dental work and cataract lens replacements. "And glasses," Charlie added. "I bought a glass machine that reads the optics of the lenses, and we organize the glasses before each trip. We hand out glasses that we get for a nominal fee or for free from other organizations. That's probably the biggest smile you can see on someone's face; when they walk out of the clinic and they can read."
FSEA and PostPress salute Charlie Brown for his lifetime of achievement in diemaking and wish him bon voyage on all his future flights to Mexico.