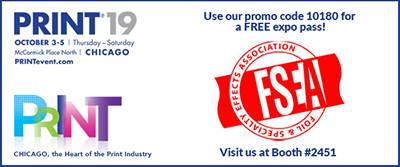 Planning to attend PRINT® 19 in Chicago, Illinois? Attend PRINT® 19 free of charge by clicking here and entering promo code 10180, which will provide access to all three days of the show.
Coming to Chicago's McCormick Place North, Oct. 3-5, 2019, PRINT® 19 will offer many opportunities for learning, networking and more. Those in attendance will see what's RED HOT at the PRINT® 19 event, network with peers and attend the Celebrate PRINT® 19 Opening Reception on Oct. 3. Some 80-plus learning sessions will be available to attendees, in addition to TechWalks, the hot ticket from PRINT® 18.
For more information, go to https://postpressmag.com/articles/2019/print-19-reveals-red-hot-tech/.