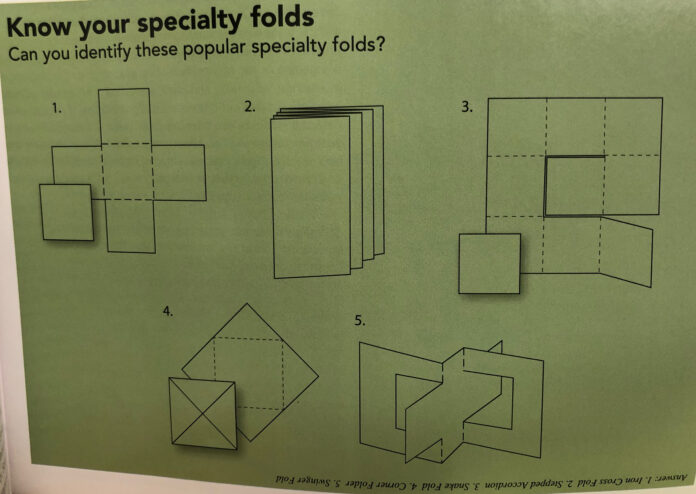 by: Trish Witkowski, foldfactory.com
It's no secret that the business of print has changed. Though the commoditization of print has been disappointing, something very interesting has been happening to a sizeable piece of the printing pie. A surge in interest in specialty print projects, such as unique folding configurations, dimensional solutions and innovative direct mail is in essence de-commoditizing print, due to the level of skill, preparation, creativity and equipment required to execute on these types of projects.
Printers have taken on specialty projects with enthusiasm or dread – iron cross folds, unique shapes and sizes or unusual formats – but it can be hard to accommodate all of the possible scenarios for specialty work, so many printers outsource the finishing to trade or specialty binderies. Binderies take on what a normally-equipped finishing operation cannot do effectively, due to a limitation of equipment, knowledge or capacity. I asked Jack Rickard of Rickard Bindery, a specialty bindery in Chicago, what makes a job "specialty". His reply included the following:
Size: large or small format
Paper weight: very light or very heavy
Quantity: large quantity in a very short time frame
Quality: quality of product or procedural requirements (ex: pharmaceutical procedures)
Complexity: number and configuration of folds or multiple finishing technologies
It's fairly subjective, but I would argue that these days, specialty also includes highly critical in-line finishing processes that eliminate the need for multiple passes through offline equipment (I believe this would fall under Rickard's "complexity" bullet above). Specialized formats for direct mail and dimensional and proprietary folded solutions, in my opinion, also would fall under this category.
The Influence of Technology
Technology has had the greatest effect on the surge in interest in specialty folding. First, there has been a sea change in direct mail philosophy with regard to refining and managing mailing lists. This leads to printing smaller batches of targeted direct mail communications. People are starting to realize the value of their data, and they're using software and services that can effectively leverage this valuable asset. The money saved by printing fewer pieces can be applied to producing a smaller amount of high quality, eye-catching print materials. "The cost of the product is irrelevant," says Norm Beange, president of Specialties Graphic Finishers, a specialty bindery in Toronto, Canada. "The question is – how many lawnmowers is it going to sell? A well-designed, unique piece will be remembered, and sometimes that means reducing your quantity to fit your budget. In my experience, it's better to send 15,000 wows, rather than 100,000 yawns."
The ability to merge different technologies with a print piece, such as complex variable data and images, personalized URLs, QR codes and more, now gives the sender multiple opportunities to create touchpoints, initiating a two-way conversation with the audience. These technologies also increase the sender's confidence in the chance of a response, which can influence the sender's willingness to spend more on that special piece.
The other technology-related influencer of this surge in interest in specialty pieces is the incredibly dramatic advancements in folding and finishing equipment, as well as in-line finishing for digital print. Recently, Hunkeler Innovation Days in Lucerne, Switzerland drew a record crowd of over 5,000 people anxious to see the latest in digital print finishing. Automation of complex processes has brought the unusual and unique within reach for customers who may not previously have been able to afford the cost of specialty projects, and has given printers and finishers the ability to sell this work and execute it in-house without sacrificing profitability. "It used to be cost-prohibitive to set-up a manual folder for complex, short-run jobs," says Mark Hunt, director of marketing for Standard Finishing Systems. "It was too expensive to amortize a 90-minute (or more) set-up time on a run-length of 50 units or fewer. Today, Standard Horizon automated folders can perform that changeover in under 10 minutes, so you can be cost effective on ultra-short run lengths. Personalized, variable-data products are now inbounds too, because these folders have virtually no set-up waste."
In addition to complex automated folding, demand for additional in-line finishing processes has really raised the bar, while increasing margins. "Some of the trends we are seeing include customization of folding machines to perform more folding and gluing applications that add value to the customer and create greater margins per piece than traditional folding," states Mark Pellman, director of sales and marketing for Baumfolder. "BAUM has incorporated the capability on both our tabletop and floor model folders to adapt various gluing applications to meet these needs."
When Automation is Not an Option
Automated specialty finishing is ideal, if it can be done skillfully and efficiently, but many companies choose to finish by hand because it's not worth the time and setup to try to automate the job – a decision that makes sense. But, what happens when the quantity and/or the complexity of the job warrants a massive hand assembly effort?
Structural Graphics in Essex, Connecticut is a full-service integrated marketing services company, but because of its niche specialty in high-impact dimensional marketing formats, the company owns and operates its own hand assembly, lettershop and fulfillment operation in Piedras Negras, Mexico. The facility operates with an average of 500 skilled hand assembly workers, but the operation is scalable to accommodate larger projects. Ethan Goller, president of Structural Graphics, provided me with a few things to think about when considering offshore large-volume hand assembly work (including Mexico):
As a rough guideline, if there is less than 200 hours of handwork, you should consider doing the assembly locally (e.g. U.S. domestic in your local market).
If you don't have a big enough project, the freight costs of moving the materials to Mexico can be greater than the cost savings of doing the assembly work there. This is especially true if the units being assembled don't drop into the USPS, because typically the assembled piece takes up more space than flat press sheets. If the quantity is significant, you may be moving a lot of "air."
Quantity isn't the only factor … "complexity" also must be taken into consideration. Goller recalled one project that was only 1,600 units, but the job was so complex that it required nearly 4,000 hours of handwork.
Bottom line, the more hours of handwork, the greater potential for cost savings by doing that work offshore.
Selling Specialty
Specialty folding and finishing offer a world of opportunity from a selling standpoint, but it's a different beast than conventional print work. Specialty projects often require extra lead time, and it can be very difficult to convince clients that they can't push the envelope on the delivery date like they might be able to do on a standard print job. "The biggest issue we have is with timelines," says Beange. "Customers are always talking about delivery date, but their date doesn't matter. It takes what it takes to create a high-quality specialty product. We've actually re-engineered our quoting system, and it's getting a lot of attention. We give a price for a normal production schedule, and then we count backwards, adding overtime, so that our customers understand that if they want to push the limits of the schedule, this is the absolute maximum that they can push it, and here's what that will cost them. It can be a real eye-opener for people, and once in a while it's even a deal breaker when they realize they can't get a complex three-week job done in four days."
Although there are great opportunities in specialty, printers, binders and finishers are finding that they not only need to consult on the production process, but also educate designers about the creative possibilities. "Perhaps the greatest challenge is the (arguable) paradigm shift that our industry has gone through," states David Bailey, Jr., president of Lithographics in Nashville, TN. "Historically, it seems as though ad agencies and the like were solely charged with the responsibility of bringing these new, creative ideas to life. With the influx of freelance designers, there has been, to some degree, a loss of knowledge – as far as what is and isn't doable from a print and finishing perspective – and an overall stigma that every print project must be done as quickly and as cost-effectively as possible. This translates into 'anything fancy or unique must be expensive so I won't even investigate it.'"
Kevin Ness, sales executive with Innovative Technologies in Print in Elizabethtown, PA, has had a lot of experience in selling specialty projects over the years. He offers this list of sales tips for success with selling "the unusual":
As a print service provider, let your customers know of your capabilities in this area. They may not currently view you as a provider of creative finishing ideas or services.
Drop off samples of unique specialty projects once in a while to "plant the seed" and to start the conversation. Designers are visual; sometimes they have to see and experience the piece to understand the potential.
Express your willingness to help explore options.
Offer to attend preliminary meetings to discuss thoughts, ideas and solutions for the project.
Outline a plan for production to include file preparation, paper selection and "testing" as necessary."
The Power of "Special"
Specialty folding and finishing create impact, and I can tell you that the most highly trafficked section on my foldfactory website is the specialty/exotic section. The most popular folds featured on my "Fold of the Week" video series are the specialty folds, and we're seeing demand for more resources, tools and information on the topic. Designers want to do exciting things, but they don't know their options. They need your help to see the true possibilities that are within their reach.
Trish Witkowski is chief folding fanatic at foldfactory.com. An educator, author, speaker and award-winning designer, Witkowski has a specialized expertise in folding. She is the creator of the FOLDRite™ system and host of the weekly e-video, "60-second Super-cool FOLD of the WEEK." Also available as a source for more folding ideas is the Fold Picker, produced by foldfactory.com and Sappi Fine Paper. This 2-sided fanbook offers 30 low-to moderate-budget "frugal" folding options in one direction, and with a simple flip, offers 30 high-budget "fabulous" folding splurges in the other direction. All of the folding styles featured in the picker have coordinating videos posted on foldfactory. Visit foldfactory.com/shop to order. Contact Witkowski at [email protected]