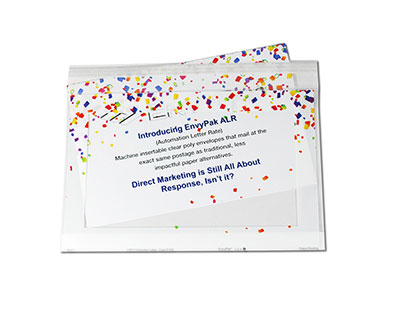 EnvyPak, Columbus, Ohio, has received a ruling from the US Postal Service (USPS) that provides lower automation letter rates for a specially-formatted, polypropylene (poly) envelope that now does not require an affixed mailing label, can be sealed with glue applied by lettershops and is fully machine-insertable.
Using this specially-formatted, Automation Letter Rate (ALR) clear poly envelope can yield up to 52.8% savings in postage, savings traditionally only attainable with paper envelopes. EnvyPak is the only clear plastic envelope that is machine insertable/sealable. It is also the only plastic envelope that qualifies for automation letter postage.
The company has worked for more than 10 years with the Pricing and Classification Division of the USPS to develop this clear envelope that meets its automation specifications. The July 2018 ruling is the most current in a series awarded during 2018.
For more information, visit www.envypak.com.