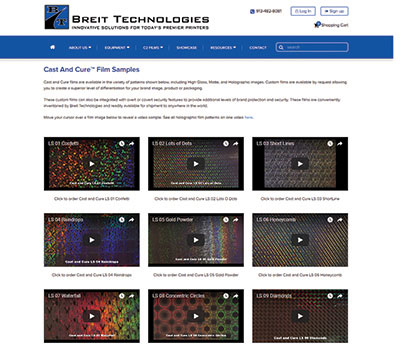 Breit Technologies, Overland Park, Kansas, has announced the company has updated its website. Printers, package designers and brand owners now can create dynamic product labels and packaging with holographic effects.
On the website, which offers online ordering, the Cast and Cure™ process is explained and demonstrated through video capture of over 20 different holographic patterns. Film can be purchased online and shipped anywhere in the world in roll lengths of 8,200′ (2,500 m) and widths from 6″ to 20″. Roll widths up to 48″ are available via phone order.
Cast and Cure™ is a last-down process that imparts special patterns onto a printed web through basic coating, laminating and curing steps. Breit Technologies offers films for producing more than 20 holographic patterns, along with other finishes, including deep matte, ultra-high gloss, textured, brushed aluminum and more. Cast and Cure™ patterns can be applied using sheet-fed and web-fed (flexo and gravure) equipment and can run on most existing cold foil machinery. Unlike foil applications, Cast and Cure™ films can be reused multiple times for a highly attractive MSI cost.
For more information, visit www.breit-tech.com.