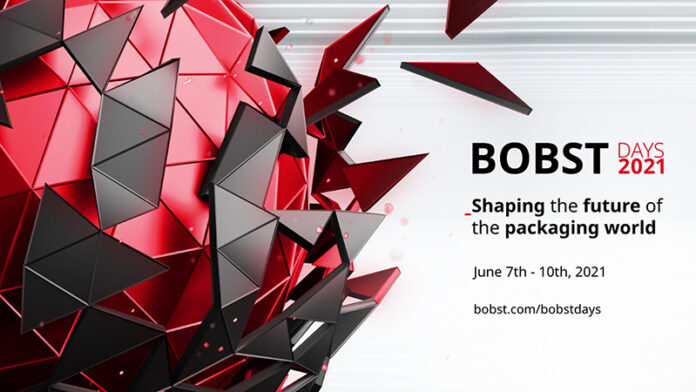 Supplier of substrate processing, printing and converting equipment and services BOBST, of Mex, Switzerland, is set to deliver a large program of webinars and live discussions that will cover all aspects of label and packaging production, over four days in early June. With each day dedicated to one sector, industry experts will present what's new and what's important to optimize the production floor.
BOBST DAYS 2021 "Shaping the future of the packaging world" will take place June 7-10. Each day will focus on one industry sector, with multiple sessions covering technologies, applications and services in labels, flexible packaging, folding carton or corrugated board.
This online experience has been created with flexibility in mind, which means that attendees can tailor their individual participation to their specific interests by registering for any of the webinars on any day. Participants will gain insights into how BOBST is implementing connectivity, digitalization, automation and sustainability across all technologies to help converters optimize their production. All webinars will be broadcast in English. Live Q&A sessions will give attendees the opportunity to quiz the presenters, which also include industry experts and customers.
Monday, June 7, is dedicated to the label industry. Webinars will cover digital inkjet, flexo and all-in-one technologies – flexo and inkjet – to help label converters optimize the entire production floor.
Tuesday, June 8, focuses on flexible packaging, helping converters to transform challenges into opportunities. Among the solutions presented will be the new MASTER CI Flexo press, eco-friendly laminates, oneECG printing and recyclable substrates for new ways of meeting sustainability pledges.
Wednesday, June 9, addresses converters in the folding carton industry. Experts will take an in-depth look at innovation in printing, diecutting and folding/gluing. This will include a presentation on a new hot foil stamper with cross-foiling ability for new embellishment techniques.
Thursday, June 10, is aimed at corrugated board converters. Production floor optimization, versatility and automation will be key topics to increase productivity and better satisfy e-commerce requirements.
Jean-Pascal Bobst, CEO of BOBST, said during BOBST DAYS 2021 the company is looking forward to debating how the collective industry can shape the future of the packaging world. While BOBST is disappointed that the company is still not able to welcome attendees to a real-life event, BOBST wants to stay connected with all of its customers and the entire industry.
For more information, visit www.bobst.com/bobstdays.