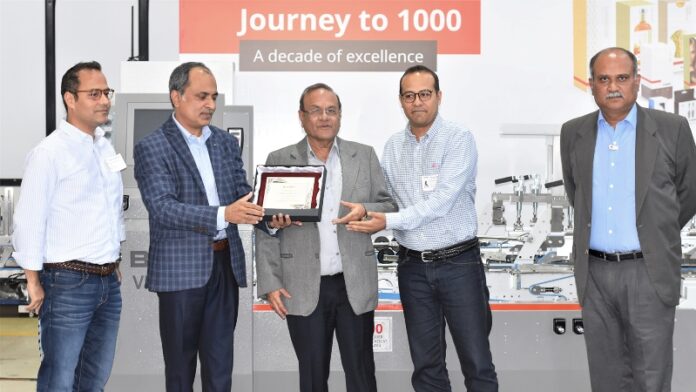 BOBST of Switzerland, a supplier of equipment and services to packaging and label manufacturers, has announced that it has sold its 1,000th folder-gluer from its production site in India.
Mumbai-based folding carton specialist Ajanta Print Arts has taken delivery of the VISIONFOLD 110 A2, described as the ultimate all-rounder for folding-gluing.
Ajanta Print Arts is a third-generation family-run packaging company that produces litho-laminated, folding cartons, plastic cartons, blister cards and shelf-ready packs for the food, personal care, pharmaceuticals and FMCG markets.
Vivek Khanna, partner at Ajanta Print Arts, said the VISIONFOLD is ideal for the multiple packaging formats the company runs yet doesn't compromise on quality and speed. Ajanta Print Arts trusts BOBST to deliver machines that meet its needs, while at the same time enabling it to support its customers with excellence at every level.
Bobst India operates from its 20,000 sqm world-class manufacturing site in Pune and employs about 400 people. Venugopal Menon, zone business director of sales, folding carton & corrugated board – Indian Subcontinent at Bobst India, said the VISIONFOLD was the ideal solution for Ajanta Print Arts, having ticked the boxes for all of the company's needs in terms of performance, versatility, quality and efficiency.
Bobst India is delighted to have been able to supply the company with a machine that delivers on all its touchpoints. In addition, it is significant for the Bobst India team that the 1000th one has been purchased by an Indian company, while the folder-gluers it manufactures can be installed anywhere in the world.
For more information, visit www.bobst.com.