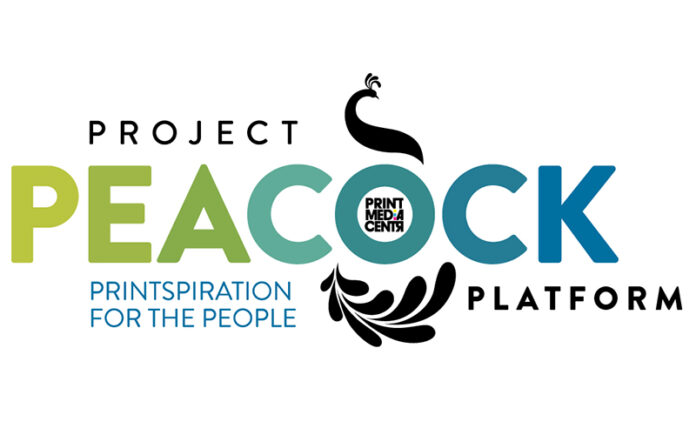 Print Media Centr, which offers information and resources to print and marketing professionals, has announced that its print customer education initiative, Project Peacock, is now a free platform accessible 24/7 and available to print and marketing professionals around the world.
The new Project Peacock Platform, which is open for registration, is a one-click destination for print customers and printers to discover the latest innovations that level up print marketing and connect directly with partners that can help them bring new possibilities to life. Supporting research and sample requests, it is designed to help print buyers, creatives, marketers, advertising agencies, brands and students learn directly from the industry subject matter experts. The platform also makes it easy to connect with print service providers.
Deborah Corn, founder of Project Peacock and intergalactic ambassador to the printerverse at Print Media Centr, said print customers are actively looking for new partners and new ways to do things; printers are looking for new customers and new technology.
Project Peacock has partnered with The Advertising Production Club of NYC to share the platform, ongoing education and information with print customers from brands and agencies, and with Comperemedia to co-host live, online educational and networking events in 2021. Lily Harder, senior director of marketing strategy at Comperemedia, will be a featured speaker presenting up-to-date, exclusive consumer research data that drives marketing success.
The educational series kicked off April 29 with Project Peacock Postal and will be followed by Project Peacock Packaging on July 15, Project Peacock Publishing on Sept. 9 and Project Peacock Point-of-Purchase on Nov. 11, with more Peacock programming to be announced for Europe, printers, students and additional vertical markets.
The growing list of Project Peacock Platform Partners includes Canon Solutions America, Domtar Paper, DirectMail2.0, Scodix, Solimar Systems and Xerox; Print and marketing service providers Allegra Princeton, Creative Squirrel, DMR Graphics, GAM Graphics and Marketing, Gorilla Gurus, Specialty Print Communications, and Tampa Printer; industry partners Combiner, drupa, FoldFactory, Graphic Media Alliance, INKISH, National Print and Sign Owners Association, Philadelphia Direct Marketing Association, Printing Industries Alliance and the Printing Industries of New England with more to be confirmed in the coming weeks.
Visit projectpeacock.printmediacentr.com to see the Project Peacock Platform and gather more information, stay up to date on Peacock Partners and to register for free platform access and a free ticket to all live educational and networking events.
For more information, visit www.printmediacentr.com.