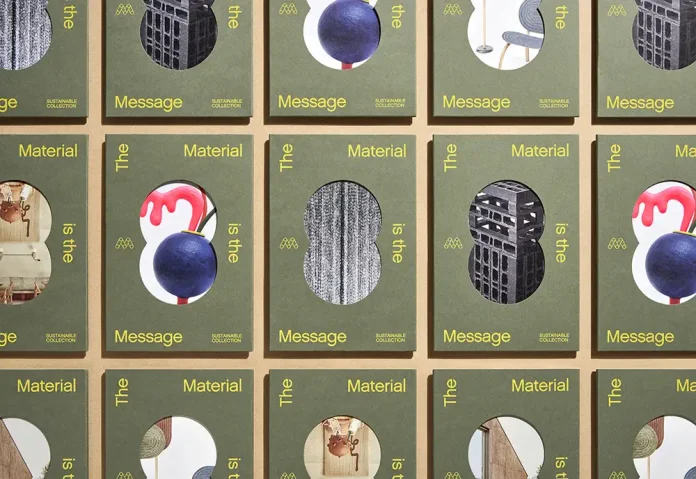 Mohawk has launched the second of its new inspiration piece series from its Sustainable Collection. "The Material is the Message" follows a familiar 6 x 9" format but is made using four distinct papers from Mohawk's Sustainable Collection and includes a die cut container that houses six unique cards. Each card tells the story of a different installation, dwelling, sculpture, object or other artifact that is created using alternative materials or methods.
The container is printed on Mohawk Renewal Hemp, Rough, Flower, 120C, demonstrating the folding and constructive properties of sustainable fine paper. Yellow foil text pops against the green of the Flower color paper, which reflects the natural material input (hemp) the sheet is made of. The cards that await within the container peek through a prominent die cut on the cover whose shape represents the Sustainable Collection.
In May 2022, Mohawk launched the new series of inspiration pieces to inspire and educate the design community with "Make a Memory." The design series is a nod to Mohawk's renowned Maker Quarterly's approach to storytelling centered around a singular idea or concept.
For more information, visit www.mohawkconnects.com/collection/paper/sustainable-collection.