by Melissa DeDonder, The Binding Edge
For 78 years, Holum & Sons Company, Inc. has been a leader in the binding industry. President Richard Holum reflected on the company's earliest beginnings in his grandfather's basement. "Arthur, my Grandfather, worked as a casemaker for RR Donnelly in Chicago. He and my Uncle William, known as 'Bud,' dreamed about starting a bindery business. They made that dream come true in 1933 when they founded Holum & Sons in Grandpa's basement," Holum said.
The fledgling company's goal was to pick up some of the smaller orders, 50 to 100 pieces, that the larger bookbinders were not competitive at producing. While Arthur worked at his day job, Bud prospected for work, picked up needed materials and delivered the finished product. "After working all day, Grandpa and Uncle Bud would meet in the basement to make bookcases and ring binders by hand," Holum said. After many late nights, they moved the business into a 500 sq. ft. facility north of the Chicago Loop.
Six years later, Bud was drafted into WWII. Arthur sought to keep the business going, so he turned to his oldest son Leo, who agreed to leave his current job and join the family business. "Arthur's son Edward, my father, had graduated high school, joined the Air Force and also was drafted to WWII," Holum said. Years passed, and fortunately both Bud and Ed survived the war and returned to Chicago.
Bud immediately returned to Holum & Sons, but Edward wanted to go to college. "Grandma talked my Father into buying a share of the business instead, and he went to work running the plant," Holum said. With Arthur's two sons on board, the partnership of four family members could then officially be called Holum & Sons.
From Turned Edge to the Vinyl Revolution
Holum & Sons maintained a simple operation in the beginning, with one person producing about 15 to 20 books per hour. Foil stamping, binder board cutting and round cornering were contracted out, but all other processes were completed in-house. Once material preparation and decoration was complete, the gluing and casing began. Then, the books were cleaned, packed in boxes and delivered.
As the company expanded over the years, the production process remained the same until the vinyl revolution in the 1960s. Vinyl was much cheaper than book cloth and it required one quarter of the labor – one person could make 75 books an hour. Then, polyethylene came along. It was even cheaper than vinyl and featured covers that were already diecut and scored. As Holum & Sons invested in high tech materials and machines, it maintained the company's traditional turned edge capabilities.
New Opportunities Lead to Diversification
By 1974, the bindery business was booming and new technology increased production up to 1,800 pieces a day. The company spent the next few decades trying to meet demand while broadening its capabilities and investing in the most high-tech equipment available at that time. "We purchased a screen printing company, a company that converted polyethylene, a company that specialized in audio packaging and an advertising specialty company," Holum said. Eventually, all services were moved in-house.
"By 1996, we felt that we were state-of-the-art in every area except our tuned edge department. Books were still being made the same way that Grandpa made them, and deliveries were long, costs were high and we were loosing big orders," Holum said. The company purchased its first automatic gluing and casing line, which blew 60 years of tradition right out the window! Two people were now able to make 2,500 books a day.
Two other important equipment acquisitions occurred at that time. The Euro Creaser allowed the company to create a durable product from inexpensive materials that otherwise would have never been used – a capability that makes Holum & Sons' products stand-out even in today's marketplace. A pick and place robotic feeder increased vinyl sealing production by almost 50 percent. Even while running two shifts, the company finds it difficult to keep up in the turned edge department.
Weathering the Storms
Although Holum & Sons has experienced substantial growth and success throughout the years, it has faced its share of challenges. "In 2001, the company was shaken to its very foundation when our leader of more than 35 years, my father Edward, died. Everyone worried about the future of the business. Some doubted its very survival and left," Holum said.
The employees who stayed behind banded together and forged ahead. "My brother Ed and I became co-presidents and we focused our attention on taking the company to new heights. We took the business online with a website and we launched a product catalog unlike any other in the marketplace," said Holum. The brothers lead the company together for four years. In 2004, they agreed that partnerships were difficult and they decided to part ways.
In mid-summer 2007, another boom in the turned edge department facilitated the largest equipment acquisition in the company's history. A new custom casemaker and robotic board placer were poised to double capacity and cut manufacturing costs dramatically, but three months later the stock market crashed. Phones stopped ringing and new production orders were cancelled or drastically reduced.
"Once again, we were dealt a tremendous blow as uncertain clients slashed their budgets and tried to make do with less," Holum explained. Holum said that during that time, China became their biggest competitor and remains so today. "We watched client after client take their high volume work overseas because one day's labor overseas doesn't buy one hour's worth of labor in the US," Holum said. "Given this situation, it doesn't matter how talented and efficient your company is. You are going to get crushed."
Innovating Into the Future
Despite all of the challenges, Holum & Sons has survived and thrived, largely due to the high-quality binders that have been the foundation of the company since its inception. "We have positioned ourselves to competitively produce custom-made binders – our biggest market niche – but we offer so much more," Holum said.
Today, Holum & Sons refers to itself as a custom packaging job shop. "As times changed, we discovered that much of the equipment used to make custom binders also could be used to produce rigid packaging, so we have dedicated ourselves to becoming packaging specialists," Holum said. "We've developed custom packaging products that compete directly with corrugated sample packaging – offering an alternative product that we feel is superior in style, construction and function."
Holum said that the turned edge department has been completely transformed in the last 15 years to meet the demand for casemade goods. The gluers and folders have accounted for a larger percentage of the business – about 60/40 binders to packaging. Silk screening and foil stamping account for a lot of work, but that has been overshadowed recently by laminated litho printing. "Unlike some of our competitors who have chosen to print litho in-house, we have chosen to partner rather than compete with litho printers," Holum said.
Holum stated that the company's most common products are literature and sample packaging, but construction varies dramatically based on the needs of the client. File boxes, slipcases, book style boxes, tote boxes, spirit boxes, portfolios, pad holders, menus, directories and binders also are popular products, again with style and construction varying dramatically based on the client's needs.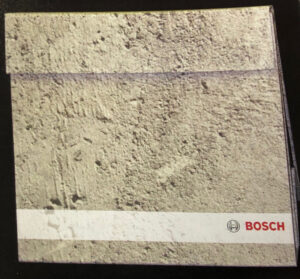 When asked what makes the company unique, Holum replied, "Many manufacturers specialize in a single decorating or converting process, but we have invested in multiple manufacturing processes and decorating techniques to create unique products in-house. At times, we use materials that were never intended to be used for that particular application," Holum said. For example, Holum described one of his favorite projects – a display easel box for Bosch concrete saw blades.
When Bosch was introducing a new diamond saw blade for cutting concrete, they wanted a display easel box concept that looked and felt like concrete. "Creating the look was simple 'we used a litho print ' but making it feel like concrete was a different story," Holum said. "How do you make a package feel like concrete? We knew that we needed to add sand, but how do you that without compromising the integrity of the color or the ability to view the print?"
To tackle these challenges, Holum & Sons sourced different types of sand for color and weight, desiring a light-colored sand with a fine particulate that would stick to the litho print, but not obscure it. The company built a "shaker box" with a screen mesh, similar to those used by archeologists, which allowed only the finest sand to fall through. One hundred pounds of sand were shaken to produce the five pounds of sand that were needed for the application.
To get the sand to stick to the print, a heavy coat of clear top coat ink was silk screened onto the print, which was then placed under the mesh screen of the shaker box. Sand was gently sifted down onto the print, and once an adequate amount of sand had settled into the ink, the print was removed and the extra sand was shaken off. The ink was set in a UV curing oven. Once removed, the sheet was gently brushed and shaken to remove excess sand. Finally, traditional turned case techniques were used to fashion the materials into a table top easel display box.
This is an example of why Holum & Sons has been recognized by the Binding Industries Association with numerous awards, 18 in the past four years alone, including awards for Product Design, Innovative Use of Materials, Creation of Special Products, Decoration Abilities and Custom Boxes and Totes.
The company currently resides in a 40,000 sq. ft. manufacturing facility just outside of Chicago. Holum, who's celebrating his 25th year with the company, cited a few secrets to the company's success. "Our employees are one of our greatest assets, and our average tenure is 14 years. Most employees have been cross trained on how to perform multiple production techniques and how to use multiple types of equipment," Holum said. He credits the custom-built casemaker, 'the largest in the country that I am aware of,' as one of the company's greatest investments. This casemaker can glue and fold cases up to 28×54".
Another secret to success has been the company's partnerships with vendors, clients and even competitors. "We have built strong partnerships to get the best pricing and service, which we then can pass on to our clients," Holum said. "Through these partnerships, we may get a portion of an order that we might not have received otherwise. I view these partnerships as an extension of our sales department," Holum said. "And, if I can help a competitor obtain a few orders each year, then I see it as a win/win situation," Holum concluded.
With its creative partnerships and products, dedicated employees and a new website launching soon, Holum & Sons has positioned itself to navigate future opportunities, as well as any challenges that may present themselves along the way.