by Hallie Forcinio, writer, PostPress
Like virtually every other postpress operation, diecutting is becoming more automated and connected. Advanced features on flat platen diecutters reduce makeready time and ensure consistent running speed.
"We have identified connectivity, digitalization, automation and sustainability as the cornerstones of packaging production now and in the future," explained Bodo Junge, product marketing director Folding Carton at BOBST North America Inc., Parsippany, New Jersey. "With these four cornerstones front of mind," he said, "BOBST is aiming to create a seamless packaging supply chain where machines and tooling communicate with each other to deliver optimum quality and performance, while reducing errors, waste and costs at every point."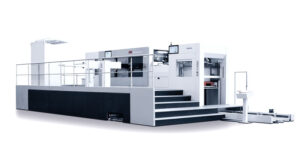 At BOBST, its MASTERCUT 106 PER autoplaten diecutter combines a high level of automation and ergonomics with its TooLink digital recipe management tool to deliver an entirely connected packaging production system that increases production flexibility, decreases job turnaround time and boosts machine productivity. Rated at up to 11,000 sheets of paper, paperboard or corrugated per hour, the machine can cut, strip and blank in one pass. Sheet sizes range from 13.78 x 15.74 inches to 29.37 x 41.73 inches.
The diecutter minimizes the need for operator intervention by automating functions and settings from feeder to delivery from a single point of control. A camera-based Matic Plus system completely automates stripping and blanking tool settings by measuring the position of tools and automatically aligning them in register to the printed sheet. The machine also features automated jam detection and setting and has a nonstop rack system in the delivery section. The new features shrink set-up time by 15 minutes.
The TooLink platform connects the diecutter with tooling to bring together the entire converting process. The unique digital ID of the diecutter enables instant recognition of tools. When the machine detects chip-equipped tools, the machine's operator interface calls up a production-ready job recipe. This reduces waste, cuts changeover time and recalls jobs without any operator intervention.
"TooLink connects, digitalizes and automates converting," said Alex Volery, head of Tooling Division at BOBST. "It creates a true converting ecosystem that addresses the key production concerns of efficiency, control, speed, quality and sustainability. With TooLink and its suite of IoT applications, packaging manufacturers have complete oversight of their dies, recipes and job histories and access to a higher level of production data and insight."
The diecutter lineup from Heidelberg USA, Kennesaw, Georgia, addresses needs from entry-level to high-production blank-separating machines. "Combining the technology and productivity focus of Heidelberg with the engineering strengths of Masterwork, the diecutter range includes many features to help automate processes," reported Chris Raney, vice president of Postpress/Packaging Product Management at Heidelberg.
High outputs depend on a continuous, reliable infeed. The Masterset optical registration system, available on Promatrix, Powermatrix and Mastermatrix diecutters, ensures sheets feed more consistently and are more precisely positioned because sheets are held by a vacuum plate and registered according to a printed mark, not to the sheet's edge. "Conventional sheet registration using front and side guides is simple and relatively accurate but can be susceptible to stops due to misaligned sheets," explained Raney.
In the cutting station, the use of a chase with quicklock saves considerable time – up to 15 minutes – when compared with the lock-up system used previously. It also is more precise and repeatable. The use of thin (1mm) cutting plates is widespread in the industry and allows the creasing matrix on an inexpensive plate to be saved for use when a job repeats. On Heidelberg's latest model, the 9,000-sheet-per-hour Mastermatrix 106 CSB diecutter, the 1-mm plate can be locked into the machine without the use of any screws, further reducing changeover time.
In the stripping and blanking stations, makeready time has been cut by the implementation of fixed frames that can accept just the wooden tool. "In the past," recalled Raney, "hours were spent setting up stripping pins in frames and creating blanking grids, etc. Today, thanks to . . . improvements . . . in the quality and accuracy of the tooling, the wooden stripping tools or the fabricated blanking grids quickly can be locked into the machine. Every frame in the machine offers a fine adjustment capability so that precise alignment of the tooling can be achieved once locked up in the machine." As a result, on a 41-inch diecutter equipped for stripping or blanking, this makeready can be completed by one operator due to the light weight of the tooling and the simple lock-up.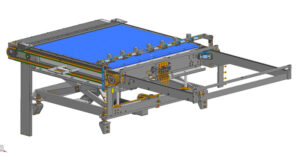 Koenig & Bauer (US) Inc., DFW Airport, Texas, introduced its own diecutter in October 2020, the CutPRO Q 106 SB model. Under development for three years, it draws on engineering from the printing side of its business. The result is a machine with a unique blanking section that cuts costs and makeready time. "It's fairly simple engineering, but different from anything that came before," said Tom Fitzgerald, director, Post Press Products at Koenig & Bauer. Designed for higher performance and greater throughput of folding cartons, the CutPRO Q 106 SB diecutter features a zero makeready blank interleaving device called the Magic Carpet. This system eliminates the use of traditional swords that require time and finesse to prepare for each job. "Even with quick-lock or auto-locking sword systems, this process can take up to 10 minutes," noted Fitzgerald.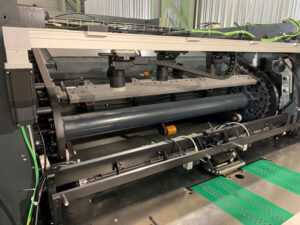 Another new feature is the Cut2Print registration system, which was designed from the SIS platform on Koenig & Bauer's Rapida printing presses. The Cut2Print system utilizes up to two cameras to read printed marks in the color bar or three cameras for sheet-edge reading. Capable of reading both the top and bottom of the sheet, the system is particularly well-suited for folding carton or litho laminate boxes. The CutPRO Q 106 SB diecutter also features a new driving device for the stripping and blanking frames and full memory recall for repeat jobs.
Diecutters from Young Shin USA Limited, Schaumburg, Illinois, the North American Division of Young Shin Industries – South Korea, also emphasize efficient set-up and shorter makeready times. Accommodating substrate sizes measuring from 40.9 x 29.1 inches to 98 x 67 inches, many Young Shin diecutters include non-stop feeders that facilitate rapid feeding and free the operator for other tasks. High-quality electronics support high output, ease of operation and low cost of ownership and generate higher production, superior accuracy and a rapid return on investment.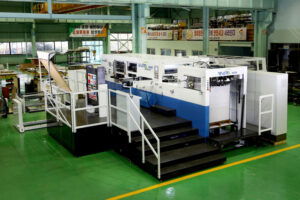 Integrated pre-makeready tables expedite the preparation of the die for the upcoming job and also allow the operator to prepare the next job while the current job is running to maximize productivity. "The quicker an operator can get the next job up and running, the more rapid gains in profitability can be realized," explained Phil Mack, vice president of Young Shin USA.     
Other throughput-boosting features include automated set-up for feeder and stripping and delivery operations.  In fact, some Young Shin diecutter models allow the operator to save up to 10,000 separate set-ups for later recall to substantially cut the time needed to begin the next job.   
Dual touchscreens, one in the feed section and one in the delivery area, reduce the time needed to make adjustments. Most operators position themselves near the delivery area so if they wish to speed up the machine or make any adjustments, the second touchscreen allows changes to be made without walking to the front of the machine. "The placement of the two touchscreens, as well as other automation features . . . can save 10 to 15 minutes off each job's normal set-up or makeready time," said Mack.