by Jeff Peterson, Editor-in-Chief, PostPress
Most of us have become familiar with the digital decorating processes in the print marketplace today. However, there still is confusion on what these processes are capable of and what are the best applications. Adding to the confusion, a variety of digital machines are available for different types and levels of work.
Even further confusion exists when discussing digital enhancements as related to foil decorating. Through a partnership with Sabine Lenz (PaperSpecs) and the Foil & Specialty Effects Association (FSEA), a new guide has been created to detail the types of metallic foil decorating processes and explain the advantages and disadvantages of each. The Foil Cheat Sheet includes detailed information on hot foil stamping, cold foil transfer, digital foil with toner-based adhesives and digital foil with polymer-based adhesives, as well as the use of foil-laminated substrates. (For more information on the Foil Cheat Sheet and to order a copy, visit www.fsea.com.
Diving into digital foil and spot coatings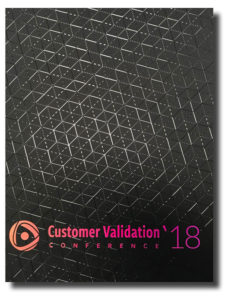 Several companies have taken the step into digital decorating, offering both spot raised UV coatings and digital foil with one machine to expand their services into the growing digital printing world.
Greg Ortmann, president of Feiereisen, Inc., runs a full-service print finishing operation in Cedar Rapids, Iowa. He was one of the first true trade print finishers to take a chance with a digital machine, purchasing a new MGI JETvarnish 3D digital printing enhancement press more than two years ago through a partnership with MGI and Konica Minolta. "The MGI allows us to work with clients and create actual proofs of different options of enhancements cost effectively," stated Ortmann. "The short-run side of our business has increased threefold, as many of these jobs never would have happened due to the cost of the conventional processes."
Presentation Folder, Inc., Orange, California, has been producing folders and other presentation products for many years, utilizing traditional foil stamping, embossing and spot UV coatings. "As we saw the industry shift to short-run, high-end print projects, digital spot coatings and foil were a natural step for us to take," explained Marketing Director Aaron Tardie. "Being able to offer clients quick turnaround and deliver exceptional quality were huge factors when deciding to add the foil unit to our digital embellishment capabilities." Presentation Folder invested in a Scodix Ultra digital enhancement press for its digital foil and spot coating capabilities.
DMS Color, Pelham, Alabama, also has added digital decorating capabilities to its digital printing operation. "By offering digitally printed embellishments – such as raised foil and varnish – we've seen an increase in customers needing short-run packaging," stated David Rula, partner and business development director for DMS. "For businesses just starting out, this is a perfect way to get high-end branding without expensive tooling and large order quantities." DMS Color added an MGI JETvarnish 3DS digital enhancement press from Konica Minolta more than two years ago.
Finding the right fit
Finding the right "fit" for digital decorating processes is an important element in becoming successful with the process. Rula explained that there have been many opportunities to utilize the process on book covers, invitations and short-run cartons, but one unique area that has been successful is using specialty raised coatings and foils on fine art prints. "When an artist approaches us to print one of their illustrations, they often have an idea in mind," he said. "However, with our team of experts, we are able to collaborate with the artists to create a show-stopping finished product."
Feierseisen has found that small- to medium-sized runs of either spot coating or foil can be cost effective when compared to more conventional processes. "Jobs that have spot UV and small areas of foil with fine to medium detail are a perfect fit for the digital press," stated Ortmann.
"With the addition of digital foil, we have certainly expanded into more products," explained Tardie. "We see much more business cards, greeting cards, invitations, brochures and postcards that require digital foil or raised UV. Being able to produce short runs for these items with digital foil, paired with specialty lamination, really allows us to offer premium and cost-effective products for our wholesale clients."
Educating customers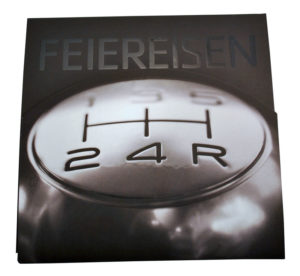 Education is the key to success with digital decorating. This education is required on two fronts – the printers/finishers that are implementing the process and the education that is needed for customers/clients. For instance, certain restrictions must be kept in mind: There are limitations on sheet size, the type of stocks that are feasible and the coverage – for both foil and coatings – that the process is capable of achieving.
"Foil and UV projects need to have an aqueous coating, varnish, primer coat or lamination on both sides of the sheet," added Ortmann. "There is a learning curve with new customers on the process because it is much different than the conventional way everyone is used to seeing."
Tardie agreed that providing resources and education on the digital process is extremely important. "We have focused on providing artwork and design resources for our wholesale clients to facilitate their growth and knowledge in how to order digital foil and raised UV. That includes the best way to build artwork for this new process," he explained. Tardie also stressed that product samples are very important to show how digital foil and raised UV can enhance a printed piece.
"One of the ways we have changed our strategy is to educate potential customers about the benefits their brand could see from digital embellishments," stated Rula. "No longer are we just providing quotes to customers. Instead, we are showing how these methods can increase brand recognition – and, ultimately, the bottom line." DMS implements this education through a variety of media: blog posts on its website, social media snippets and specific case studies. The company also plans to add video content to these platforms in the near future.
Selling digital enhancements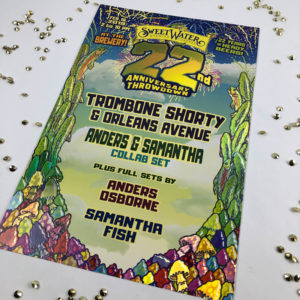 Promoting and selling digital embellishments have fit in with the other types of services and products offered by all three of the companies featured in this article. "Selling the process is much the same as selling conventional foil and coatings," remarked Ortmann, who went on to say that sometimes it can be even easier to sell because the process is so new. Digital foil and coatings give creative minds a design tool that was never before available to them.
Rula added that promoting and selling digital coatings and foil was a natural step for DMS. "As a print shop that is proud to be rooted in technology, we love pushing the status quo – and our digital embellishments do just that."
Presentation Folder, Inc., always has been comfortable in selling and promoting traditional foil stamping, embossing and traditional spot UV, so expanding into digital embellishments was an easy step for the company. "To us, this was a natural progression, and the benefits of the digital process for raised UV and digital foil made the transition smooth," explained Tardie.
Recognizing digital decorating limitations
It is important to remember that the digital decorating process is not the answer for everything. As stated earlier, there are limitations on the type of paper stocks that work well with both raised coatings and foil. Because the process utilizes a liquid polymer that is applied to the sheet, it is best to have a varnish or lamination on the sheet before applying the polymer. So, for applications that require foil on thicker, uncoated stocks, a more traditional foil stamping process is the better choice. And, although an embossed look can be created using raised varnish, a true multi-level embossing only can be done through a conventional embossing process using a die. Finally, for longer runs, the overall cost for a job will be lower and the time needed to complete it will be much less when using a more conventional foil and/or screen UV coating method.
The explosion of digital embellishments created via a digital inkjet process has brought an enormous amount of attention to metallic decorating – inspiring a demand for the stunning results that have helped grow the overall use of print embellishments, whether hot foil stamping, cold foil or digital foil (toner or polymer-based adhesives).
Conclusion
"While the products we produce can be created without digital coatings and foils, these capabilities have given us the opportunity to differentiate ourselves and our customers," concluded Rula.
Tardie shared that the addition of the digital foil and raised UV has brought in new clients, which has allowed Presentation Folder, Inc., to offer those same clients additional services – such as diecutting, lamination, traditional foil stamping and embossing, and other finishing services. "This has been one of the many amazing benefits of having the equipment and being able to offer raised UV and digital foil services," Tardie concluded.
Offering digital embellishment services has allowed Feiereisen to be competitively priced when offering foil or coatings on small- to medium-sized jobs – jobs that might not typically include those processes if traditional methods were required. It has created opportunities to present customers with a high-quality print enhancement project that keeps costs down with quick turnaround times. "Some of the more elaborate pieces we have been able to create have opened different opportunities of print enhancement applications that we simply can't achieve conventionally," concluded Ortmann.