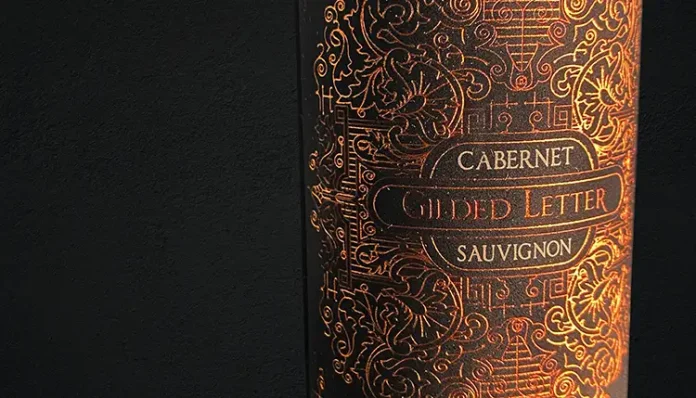 By Erin La Row, editor, PostPress
The folks at Multi-Color Corporation North America (MCC) know labels. They've been helping clients build their brands through premium label solutions for more than 100 years. The company's vision is to have global leadership in premium label solutions. And with more than 13,000 employees and 109 label producing operations in over 26 countries, the company is well on its way.

The wine and spirits segment is one of many market segment specialties in MCC's portfolio. Its experts are in all major wine-producing regions helping to make every label project a success, whether it's through embellishments, specialized inks, alternative materials or other printing specialties. One such success story – that of Gilded Letter Cabernet Sauvignon. The team at Penrose Hill had been collaborating with the team at MCC on producing their unique labels.
"Penrose Hill was intrigued when the digital team at MCC presented the velvet stock as an innovative option," said Scott Amoroso, director of operations at MCC. "After a few trials, the finished product ran beautifully and is now seen as the design today."
MCC was tasked with telling the story of a wine rich with flavor – with layers of oak and spice – from vineyards in California's Sonoma County with its label. The team started with 155 lb. flocked black velvet stock. The team at MCC revised and proposed an improved design for the Gilded Letter label, as there were some limitations with the velvet stock. They added gold and copper foil in a thin and intricate design. Foil was supplied by KURZ and Metal Magic supplied the foil/embossing dies.
"Specific spacing between foils was necessary to be applied to the velvet material to avoid the distortion that the felt material could cause," Amoroso said.
The Gilded Letter label was printed on an HP Indigo digital press and then hot foil stamped and diecut offline on an ABG Digicon press. One of the advantages of the ABG Digicon is that the hot foil stamping can be accomplished with flat dies versus a brass rotary hot stamping engraving, providing an enormous cost savings for the customer for small to medium-sized label runs.
The result: A label that captures the essence of this limited release wine.
"The client loved it!" Amoroso said of Penrose Hill. Judges at the FSEA's 29th annual Gold Leaf Awards took notice, too, awarding MCC with a silver for Best Use of Foil/Embossing Label – Digitally Printed.
"We actually created a series of these wines – cabernet, chardonnay, pinot and zinfandel – always different color velvet and different foil combos in order to create a broader luxurious and opulent brand series," said Carolin Meier, chief wine officer, Penrose Hill.
According to www.firstleaf.club, Gilded Letter Cabernet Sauvignon's flavors are dense and concentrated with modest acidity and a dry finish. The wine's tasting notes include violet, vanilla and blackcurrant, and it pairs well with bone-in Ribeye, Polenta and Italian Beef Ragu. Cheers!