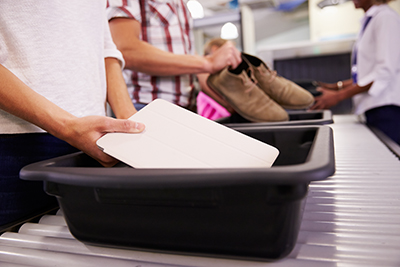 Traveling for business, as opposed to vacation travel, has its own demands and quirks. On vacation, the schedule might be as loose as "we leave today and don't have to be back at work for two weeks." With business travel, schedules are tight. While a vacation can have plenty of flextime and changes of plans, business travel agendas must be followed. The whole point of vacation travel often is to slow down, unplug and relax. A business trip, however, is work, not play, and productivity must be maintained.
Seasoned business travelers use a variety of methods to simplify and manage their trips. They streamline their preparations, organize their itineraries, perfect their luggage-packing technique, cut costs and shave dollars, make good use of travel time and accommodations, and maximize their productivity while on the go. Here are some useful tips from veteran business travelers.
1. Time your departure.
Minimize the impact of flight delays by choosing the best departure time. Avoid the last flight of the day because, if it's canceled, that's it until the next morning. With increasing extreme weather in many parts of the country – including the major airline hubs in Chicago, Atlanta, Dallas and Charlotte – the chance of weather-related delays is all too real. If on-time arrival is paramount, fly in the morning to have a large window of flying (and delay) time.
2. Get some peace and quiet.
Rather than attempting to work in a crowded, noisy terminal, take advantage of an airport lounge. Most lounges offer snacks and drinks, and many provide desk space, Wi-Fi and (blessed) quiet. Flyers don't have to join a specific airline's program to use lounges; services like LoungeBuddy and Priority Pass allow travelers to purchase one-time use or a membership.
3. Sail through security checks
OK, "sail" may be an overstatement. But travelers can reduce the time they spend waiting to be screened and scanned with a little recon and some understanding of human nature. Scope out the lines to see who is queued up, then avoid those lines full of older travelers and families heading for vacation with a passel of kids. Instead, get in line with the business travelers – the folks with laptops and sleek carry-on bags. Also, run counter to the human tendency to funnel to the right at security booths. While everyone zigs, zag to the left and see if the lines are shorter. (And, for a suggestion on how to really sail through the security checks for a nominal fee, see Brittany Willes' suggestion below, in the Bonus tips.)
4. Refuel in mid-air
It's not quite as dramatic as the aerial refueling done by jet fighters that hook up in mid-air with their tanker fuel suppliers, but portable chargers for phones and tablets can be lifesavers for gadget-dependent travelers. While the highest-capacity chargers are fine for use on the ground, airlines have restrictions on what can be used in plane cabins. Check airline rules for the maximum power allowed (in watthours, Wh) and be sure to purchase a charger that has its Wh clearly displayed.
5. Stretch the food budget
Rather than eating out for breakfast, lunch and dinner, make use of that little hotel refrigerator. Eat healthier and cheaper by making a grocery store run en route to the hotel. Stock the fridge with things like juices, hard-boiled eggs, sandwich makings, fruit and vegetable trays. One savvy traveler suggests buying a rotisserie chicken for a versatile protein source. For those with food restrictions, mimic the contents in the home fridge, and include whatever is nutritious, tasty and "grab and eat" easy for light meals and snacks.
---
Bonus Tips from the Intrepid Travelers at Peterson Publications
1. Dianna Brodine, operations director at Peterson Publications, offers this smart tip for staying organized: Keep a trip folder.
"I make all travel plans at the same time – airline tix, hotel registration and car parking reservations (and car rental, if needed) – and then keep copies of all the registration info in one folder," said Brodine. "Then, as more information comes in about meetings I need to attend, people I want to make sure to connect with or event schedules, I put it all in that folder. I had one situation where my digital files were wiped out prior to a trip … and since then, I'm a firm believer in paper backups."
2. Company owners Jeff and Gayla Peterson, fresh from a flurry of trips to tradeshows and conventions, share this pre-trip advice: Compare the time/cost tradeoff of flying vs. driving.
"Analyze your trip to determine if flying is really your best option," suggested the Petersons. "Will you need a car on your trip? What is the driving distance? Will there be flight layovers along the way?"
"If your drive time is within five to six hours, consider driving rather than flying," they said. "When you add up the time required to arrive early at the airport, wait for the plane, and then collect luggage at baggage claim and retrieve a rental car, driving may be a better option."
3. Peterson Publications Assistant Editor Brittany Willes swears by the value of investing in TSA PreCheck®.
"Everyone knows that airport security can be a nightmare to get through – especially when you're in a hurry to catch a flight," Willes said. "It could be worth your while to invest in TSA PreCheck®, which allows most travelers to get through security in roughly five minutes. It also means not having to remove shoes, jackets, electronics or liquids while going through the check point."
4. The Petersons also suggest a method to ensure adjacent seating for traveling companions on flights with no seat assignments: Buy one upgraded boarding pass.
The Petersons, who like to sit together on flights, pay an upgrade fee at the gate for one "first 15" boarding pass. (The upgrade pass available at the gate is distinct from other early and priority passes that are available.) The pass holder then can board with the earliest group, choose a location and "reserve" an adjacent seat for the other traveler, who boards with the remaining crush of passengers. Voila – two choice seats for the price of one upgrade!
Happy trails.