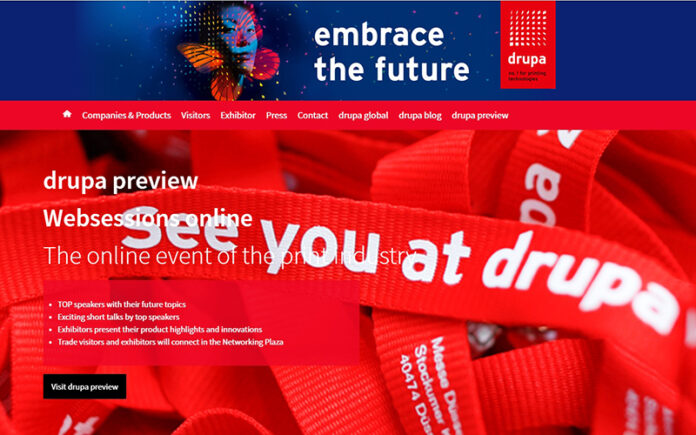 Messe Düsseldorf North America, Chicago, Illinois, has announced that after close consultation with exhibitors and partners, the 2021 edition of drupa, the trade fair for printing technologies, will be canceled due to the impact of the COVID-19 pandemic. The next event will take place as scheduled from May 28-June 7, 2024, in Düsseldorf, Germany. To maintain the momentum until then, the organizers will offer "virtual.drupa," a four-day digital event from April 20-23, 2021, during the time frame drupa was originally scheduled for.
Launched in October, the drupa preview platform already offers an impression of what "virtual.drupa" will look like. It will give companies the opportunity to showcase themselves and their innovations virtually, as well as maintain existing contacts and establish new ones via the matchmaking feature. In addition, the conference schedule of the five drupa hot spots will provide key incentives and set the agenda for an online transfer of knowledge. For instance, international speakers from vertical markets will present success stories of Future Technologies in the Cube, outlining the future of the industry.
A drupa Q&A is available at https://tinyurl.com/y46rvo5n.
For more information about "virtual.drupa" and drupa 2024, contact Messe Düsseldorf North America at 312.781.5180 or [email protected]. Information also can be found at www.drupa.com and www.mdna.com.
For hotel and travel information, contact TTI Travel, Inc. at 866.674.3476; fax: 212.674.3477; email: [email protected]; www.ttitravel.net.