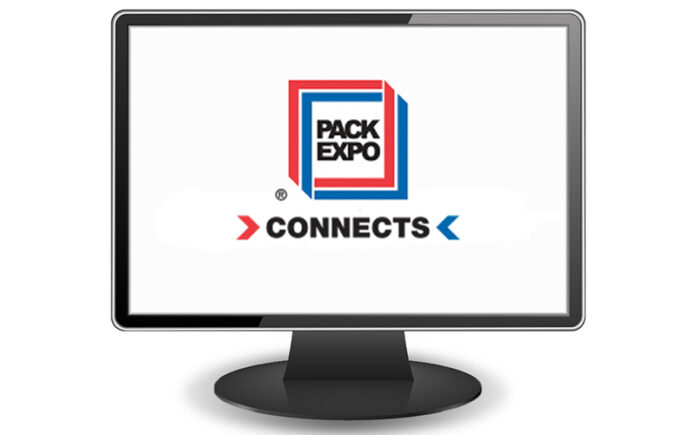 Herndon, Virginia-based PMMI, The Association for Packaging and Processing Technologies, has announced that PACK EXPO Connects brought the industry together during its launch week Nov. 9-13, with nearly 18,000 attendees engaging with more than 700 exhibitors to find solutions to critical packaging challenges.
Despite exhibitor preparedness, technical issues kept the live demonstrations from launching as intended on Monday, but the PACK EXPO Connects exhibitors adapted and demos returned for attendees looking to see technology in action the remainder of the event.
To date, PACK EXPO Connects has seen 137,000 unique directory visits with 475,000 total showroom visits since the event website went live. During the show week, attendees viewed demos more than 32,000 times. Those numbers will continue to grow as engagement continues on packexpoconnects.com with on-demand demos and exhibitor showrooms available through March 2021.
In addition to demos, educational offerings – many debuting for the first time at PACK EXPO Connects – produced engagement surpassing expectations. More than 800 attendees tuned in live to Dr. Kim Houchens, director, Customer Packaging Experience, at Amazon's keynote address, which remains available on-demand at packexpoconnects.com. The daily Jumpstart sessions each averaged 400 viewers seeking insights into key trends and technologies. And every day, over a dozen Innovation Stages and afternoon Trend Chats and Daily Downloads with PMMI Media Group editors attracted high daily participation. The Solutions Room wrapped up the week on Friday with targeted interactions from the OpX Leadership Network, Organization for Machine Automation and Control (OMAC), the Institute of Packaging Professionals and the Contract Packaging Association.
Engagement will continue through March 31, 2021, with on-demand demos, educational sessions and showrooms remaining available as resources for industry professionals in the coming months. Access all live recordings from the show through March 2021 at https://peconnects20.mapyourshow.com/8_0/login/login.cfm?&utm_source=Newsletters&utm_medium=PMMI+Press+Release&utm_term=20201118&oly_enc_id=.
For more information, visit www.pmmi.org, www.packexpo.com and www.pmmimediagroup.com.