by Hallie Forcinio, contributing writer, PostPress
As printers face a greater mix of digital- and offset-printed jobs, shorter run lengths and a tight labor market, perfect binders have become more automated, flexible and connected. Traditional, large-volume printers are migrating to shorter, digital run lengths, while midsize digital shops doing print-on-demand, short-run batch and medium-run book production are growing and need higher output.
"Today's ultimate perfect binding solutions are hybrid/crossover machines that have been configured to allow near-line applications for traditionally-fed offset-type products and also can be utilized to operate inline with digital front ends," reports Mike Wing, solutions manager, Book Technology and Digital Solutions at Mueller Martini.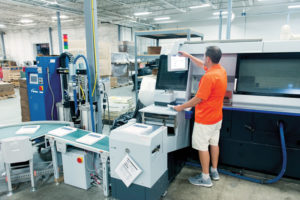 He adds, "Today's 'smart factories' are driven by ultra-efficient touchless workflows that result in near-zero makeready by providing a seamless connection throughout the entire production line." These workflows are enabled through (1) JDF job files that can be downloaded directly to the binder, or (2) binders utilizing barcode scanners at the infeed that identify and recognize each product – and its uniqueness – as it enters the line. Both methods enable the perfect binder to set up automatically and document each product's parameters and integrity (e.g., page count, trim size, cover-to-content matching) during production. Smart systems also produce continuous data, pushing analytics back to management and operators so they can quickly identify bottlenecks and make changes whenever and wherever necessary.
With a tight labor market that makes it difficult to hire experienced or seasonal personnel, along with rising wages, the labor-intensive workflows of traditional bindery operations are no longer profitable. "It cannot be overstated that the addition of touchless workflows is essential to an industry experiencing both a reduction in labor and in skill sets," says Wing.
Flexible equipment is needed to make it easy to adapt as business expands and/or moves into new markets. As the number of shorter runs grows, minimizing changeover time becomes critical. "Printers want to produce more titles per shift," reports Rick Salinas, vice president of Marketing for Duplo USA Corp. Automation makes it possible to move from a 50,000-book shift with two or three titles to more than 50,000 with 10 to 15 titles.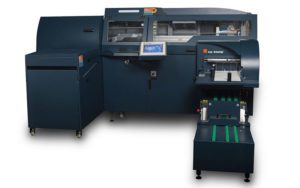 "Automation has become the great equalizer," agrees Jim Tressler, vice president of sales at C.P. Bourg. To automate the binding process, minimize labor requirements and eliminate waste, the Bourg Book Loader, or BBL accessory, converts its single-clamp binder into a 100+ pocket, self-feeding, autonomously operating perfect binder. The operator needs only six to eight minutes to load up to 120 book blocks into the empty clamps. Once loaded, the binding process begins, and the operator works on other tasks, returning occasionally to empty the delivery and load book blocks into empty pockets. The result is higher asset utilization and return on investment.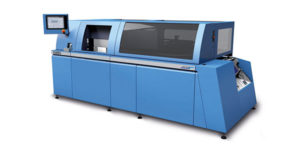 Another system with automated book block infeeds, Mueller Martini's Vareo three-clamp perfect binder, on which each clamp has its own drive that moves independently, can operate continuously or as a "stop-and-go" binder for higher net throughput.
Caliper-equipped book clamps on Duplo's DPB-500 binder accommodate run lengths of one. When the clamp closes, the caliper automatically reads thickness and scoring wheels, side glue wheels and cover positioning guide adjust. In variable mode, each book can be different. For longer runs, there's a set mode. But, even in set mode, the caliper does a quick check of thickness to ensure the proper number of pages is present. The system also can incorporate barcode readers to check codes on covers and book blocks to ensure the two match.
"Additionally," Tressler says, "we have made it possible to direct-connect the binder to multiple brands of printers and presses." When operating inline, the Bourg Book Compiler, or BBC, accommodates cover- or batch-driven workflows. In either case, the customer preprints covers with a unique barcode identifier. When placed into the cover feeder, the code is read and the required content is immediately printed and bound, completely under process control with one operator. Tressler reports, "This workflow is ideal for runs of one or many and eliminates costly work-in-process and any manual touchpoints in manufacturing. By maximizing throughput and minimizing labor and waste, the increase in profits is enormous."
Salinas notes there are other productivity-enhancing features, including bottom-feeding cover feeders and cooling towers. Bottom feeding permits cover replenishment without stopping the machine. Rotary cooling towers give books a chance to cure so they can be trimmed without damage and without any sitting time.
Today's perfect binders also compensate for a wider array of substrates including coated and non-paper materials. Careful attention also must be paid to adhesive selection and spine preparation to ensure the book will perform under the environmental conditions it will experience. Ethylene vinyl acetate (EVA) adhesives remain common, but the use of polyurethane (PUR) is rising because it seals well on coated stocks, synthetics and polyester. "PUR dries not by cooling but exposure to air," explains Salinas. "Once it cures, it isn't going to come apart," he explains.
"PUR does a great job on newer stocks with both pre- and post-print coatings," adds Bob Flinn, director of business development at Standard Finishing Systems. With the growth in digital printing and its reliance on coated stocks, he says, "PUR systems are now more affordable, user-friendly and versatile."
For Mueller Martini, advanced, thickness-variable PUR-nozzle systems apply adhesive more precisely, reduce daily cleaning/maintenance requirements and produce minimal waste in comparison to traditional glue pot systems. Integrated "adhesive monitoring systems automatically check for proper glue application and ensure each book is the highest quality," says Wing.
The newest perfect binders also offer enhanced safety features and energy efficiency, plus a smaller footprint. As a result, newer machines typically deliver throughput and cost advantages over legacy equipment.
The fastest units for perfect binding operate at 18,000 books per hour. However, Wing says, today's short-run, hybrid or digital work mixes are better served by slower speeds.
Tressler pegs this sweet spot for single-clamp machines at about 600+ cycles, or 350 books, per hour.
If faster speeds are needed, Salinas suggests a single-clamp machine capable of handling up to 1,000 books per hour, or a multi-clamp system that delivers 4,000 to 6,000 books per hour.
Next steps
The demand for books is growing. "…we are printing many more books today than ever in our history," reports Tressler. He expects the trend toward much smaller quantities per order to continue. "The advent and impact of versioned, variable print and personalization is fueling this trend in all markets including pleasure read, vanity press, expressions and greetings, and others," he adds.   
Automation will continue to expand. The skilled operators needed to run legacy equipment are retiring, and it's difficult to hire and retain new workers. "The new equipment makes it easy to bring new operators up to speed quickly," says Flinn.
"Operators won't be programming machines anymore," agrees Salinas Major print producers are moving toward workflow-driven production where post-RIP data is sent directly to finishing devices. "Machine-to-machine communication will not only improve productivity but, more importantly, eliminate mistakes," he explains.
Meanwhile, quality is more important than ever. Flinn explains: "In the old days, runs were high-volume and boxed up. A customer only saw a few books in a run. Today, with short runs, customers look at every book." With any deviation noticed, book-to-book consistency is a must – along with a strong binding, square spine, accurate trimming and a mark-free cover.    
With the higher levels of automation and flexibility being engineered into new perfect binders, it makes sense to replace legacy equipment. Today's perfect binders can efficiently process variable products, one after the other and be run by fewer and less experienced operators. This makes it practical, even profitable, to run batches of one with completely different covers (hard or soft), trim sizes, paper stocks and customized content.